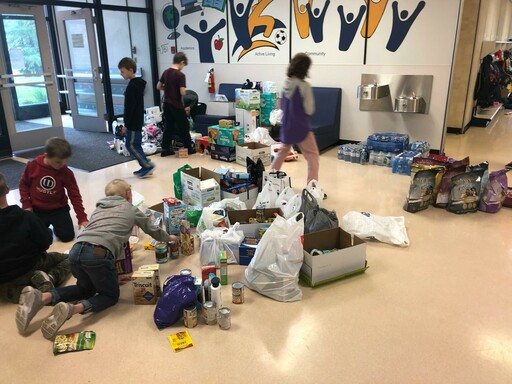 Sherwood Park, AB. — In the wake of the recent wildfires raging across Treaty 8 territory in northern Alberta, Elk Island Public Schools (EIPS) teacher Darlene Gillis began looking for ways that she and her class could reach out and help those who have been affected. What started as a Grade 3 group project to gather donations of essential supplies soon spread to include students, families and staff from nine EIPS schools. "It feels really good to help," says Rio Saskiw, a Grade 3 student at Wes Hosford Elementary. "When you help people it gives you a jolt of happiness."
Gillis and her class were inspired to look for ways they could help after working with Elder Wilson Bearhead, an Elder who works with EIPS to guide Indigenous education. "We have been doing a lot of work based on Elder Wilson's teachings about kinship, relations and community from Indigenous Perspectives," says Gillis. "The wildfire situation offered an opportunity to put these teachings into action, and show students how we can engage with concepts like volunteerism and global responsibility."

While her Grade 3 class started gathering donations of food, water, baby supplies and toiletries, Gillis sent a call out to colleagues to see if anyone else could offer any help in supporting affected communities. The response was tremendous. Bev Facey Community High, Brentwood Elementary, Clover Bar Junior High, Fort Saskatchewan High, Mills Haven Elementary, Salisbury Composite High, Sherwood Heights Junior High, Strathcona Christian Academy Elementary and Gillis' own school, Wes Hosford Elementary, were all eager to join in the cause. Even organizations like Sobey's, local law firm Cooper Regel and community yoga classes joined in the donation drive, contributing flats of water, grocery story gift cards and more. Together, the schools and their community partners were able to fill three trucks with supplies, which travelled to the Treaty 8 sub-office in Edmonton to drop off everything collected.
June is a busy time of year for schools, full of deadlines, final exams, marking, and graduation ceremonies, and Gillis is grateful to everyone who made this relief effort a priority. "All the people who donated were apologetic about how little they had to offer," says Gillis. "But all these small donations came together into a large load that we couldn't have achieved on our own. When everyone makes a contribution, no matter how small, it can cause a huge impact and create a true sense of community. Thank you to everyone who helped during this busy time."

More information about how to make donations is available on the Treaty 8 Wildfire Relief Website.
Wes Hosford Elementary is a kindergarten to Grade 6 school serving approximately 460 students and is one of 43 schools within Elk Island Public Schools. More information about the school is available at www.weshosford.ca.
–30–
For more information contact:
Darlene Gillis, Teacher, Wes Hosford Elementary, 780-464-1711
Laura McNabb, Director, Communication Services, EIPS 780-417-8204 cell 780-405-4902