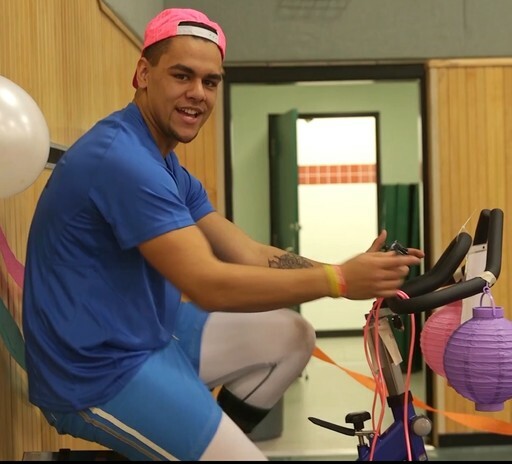 Sherwood Park, AB. — Students from Fort Saskatchewan High are getting set to pedal their way around the clock during the Spinning for Smiles Fourth Gear Bike-A-Thon on March 1-2. "There's a big sense of community around the bike-a-thon," says Shelby Bradley, a Grade 11 student from Fort Saskatchewan High. "It feels good to come together for a good cause, and it's a lot of fun too."
Since December, students have been busy raising awareness about the event, fundraising and putting their 30 teams together. Each team is given a four-metre by four-metre space complete with one stationary bike. Members can then bring any item they choose into their room—couches, air mattresses, televisions, PlayStations and even fridges. The only rule: The stationary bike has to continually spin for the entire 24-hour period.
"The bike-a-thon has been running for four years now, as a way to honour the memory of a former student, Spencer, who passed away from cancer in 2009," says Sunny Sandhu, the Principal of Fort Saskatchewan High. "Every year, we're overwhelmed by the amount of support from the community, which helps make this event a success. I'm incredibly proud of the work our students have done to fundraise and spread awareness."
Proceeds raised from the 2019 bike-a-thon are being donated to the Smiles from Spencer Foundation, a Fort Saskatchewan-based not-for-profit organization founded by Spencer's parents, Tyson and Janna Turner. The foundation will then donate the money to the Kids with Cancer Society. Over the last three years, Fort Saskatchewan High's Spinning for Smiles Bike-A-Thon has raised more than $69,000. To learn more, or to donate, visit www.smilesfromspencer.com/events.html.
Event Details:
Date: March 1-2
Time: 9 a.m. Friday to 9 a.m. Saturday
Location: Fort Saskatchewan High, gymnasium
Address: 10002 97 Ave., Fort Saskatchewan
Fort Saskatchewan High serves approximately 400 students in grades 10 to 12 and is one of 43 schools within Elk Island Public Schools. More information about the school is available at www.forthigh.ca.
–30–
For more information contact:
Laura McNabb, Director, Communication Services, EIPS 780-417-8204 cell 780-405-4902
D'Anne Bennett, Assistant Principal, Fort Saskatchewan High, 780-998-3751