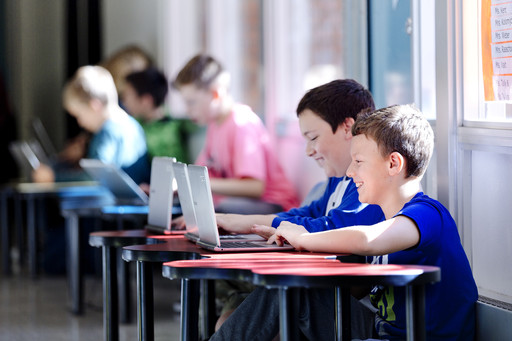 Sherwood Park, AB. — Sometimes the best way to learn is to meet, build and share.
That's the premise behind this year's Scratch Day and Jour du Scratch, two fun-filled days of coding aimed at introducing students to computer-programming. "It's fun and a new way of thinking," says Katelyn, a Grade 5 students from Westboro Elementary. "You have to think, problem solve, create and then share what you've done with people around you."
Close to 750 Elk Island Public Schools (EIPS) students in grades 4 to 9 are slated to attend this year's Scratch Day and Jour du Scratch, taking place on May 15 and May 16 at Bev Facey Community High. Using an application known as Scratch—one of the world's leading computer languages used to teach youth how to code and program—students are introduced to computational thinking, coding processes and tasked with designing games, animation and digital stories. Students also participate in a series of challenges, in a somewhat gamified environment, and then present their completed projects to the rest of the participants at the event.
"Scratch Day is an exciting event for our students that they look forward to every year," says Danielle Nelson, a consultant with Learning Services at EIPS. "Using a drag-and-drop platform students are introduced to coding in a simple and easy-to-understand language. They're immediately hooked and before you know it they have these creations they can share. That's what we want, to offer students unique ways to think creatively, reason systematically and work collaboratively—essential life skills in the world today."
Originally launched in 2007, Scratch Day is gaining momentum around the globe. EIPS is one of hundreds of schools and organizations worldwide that currently hosts Scratch Day celebrations, and was one of the first school divisions in Canada to do so.
Representatives of the media, family and community are invited to join students as they take part in this year's Scratch Day activities. There will also be an opportunity to take photos and to speak with students.
Event Details:
Date: May 15, 2017 (English) May 16, 2017 (French)
Time: 9 a.m. to 2 p.m.
Location: Bev Facey Community High, gymnasium, 99 Colwill Blvd., Sherwood Park
EIPS is one of Alberta's largest school divisions, serving approximately 17,100 students in 42 schools. We are proud to be an integral part of our communities, including Sherwood Park, Fort Saskatchewan, Vegreville, Strathcona and Lamont counties, and the western portion of the County of Minburn.
 –30–
For more information contact:
Danielle Nelson, consultant, Learning Services, Supports for Students, EIPS 780-417-8114
Laura McNabb, director, Communication Services, EIPS 780-417-8204 cell 780-405-4902