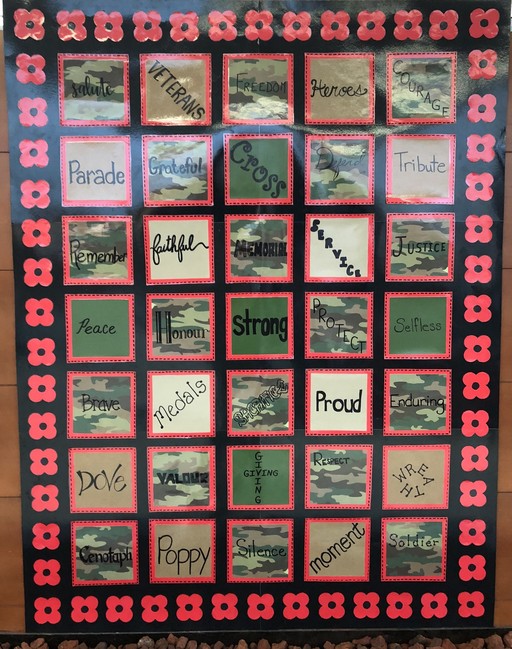 Sherwood Park, AB. — Students and staff from Elk Island Public Schools (EIPS) have created a warm way to thank members of the Canadian Armed Forces. On Nov. 9, 2017, more than 630 students from Fort Saskatchewan Christian and Fort Saskatchewan Elementary are hosting a Remembrance Day Ceremony where they'll present a student-made Quilt of Honour to representatives from the Third Canadian Division Support Base Edmonton, commonly known as Edmonton Garrison. "We owe an incredible debt to the men and women who have served in our armed forces," says Charis, a Grade 8 student at Fort Saskatchewan Christian. "These are heroes and because of their sacrifices, we are able to enjoy freedom. The quilt is meant to be a small token of gratitude."
Over the last month, students in all grades from both schools have worked collectively on the Quilt of Honour. Now complete, the quilt features 35 individual squares, each one representing a class from the two schools. On each square, is a word encapsulating what it means to serve in the Canadian Armed Forces—for example "courage," "strong," "heroes." To come up with a fitting word, lesson plans were taught around Canadian history; sacrifices soldier have made, and continue to make; and the significant role the armed forces plays in bringing peace and security to the world.
"Whether serving during times of war, military conflict or in between, the quilt is meant to recognize those who have served the country to bring peace and security," Elaine Baillie, the chaplain at Fort Saskatchewan Christian and the co-ordinator of the Quilt of Honour project. "I think overall, everyone—from our students to our staff—feel incredibly proud to be Canadian and grateful for the work our soldiers do to keep us safe."
In addition to the Remembrance Day Ceremony at Fort Saskatchewan Christian and Fort Saskatchewan Elementary, additional ceremonies are planned in schools throughout EIPS on November 9. Ceremonies include assemblies, student-poem recitations including In Flanders Field, choir and music performances, student- and special-guest presentations, a moment of silence and the playing of bagpipes. Students will also spend the day learning about the sacrifices and contributions Canadian veterans have made over the years and the significance of November 11—the end of the First World War on November 11, 1918 at 11 a.m.
"Remembrance Day is about honouring our history and the people who fought and died to keep our country free," says Trina Boymook, the Board Chair of EIPS. "It's important for our students to remember and understand the incredible sacrifices made, past and present, by members of the Canadian Armed Forces. We will never forget."
Media, families and community members are invited to attend their local school's Remembrance Day Ceremony. Details regarding the Remembrance Day Ceremony for Fort Saskatchewan Christian and Fort Saskatchewan Elementary are below.
Event Details: Quilt of Honour presentation and Remembrance Day Ceremony
Date:   Nov. 9, 2017
Time: 10:45 a.m.
Room: gymnasium
Location: Fort Saskatchewan Christian, 9806 101 St., Fort Saskatchewan
Photo Ops: Students and staff participating in the Remembrance Day Ceremony and presenting the Quilt of Honour to members of Edmonton Garrison.
EIPS is one of Alberta's largest school divisions, serving approximately 17,150 students in 42 schools. We are proud to be an integral part of our communities, including Sherwood Park, Fort Saskatchewan, Vegreville, Strathcona and Lamont counties, and the western portion of the County of Minburn.
–30–
For more information contact:
Dave Armbruster, principal, Fort Saskatchewan Christian 780-998-7044
Laura McNabb, director, Communication Services, EIPS 780-417-8204 cell 780-405-4902