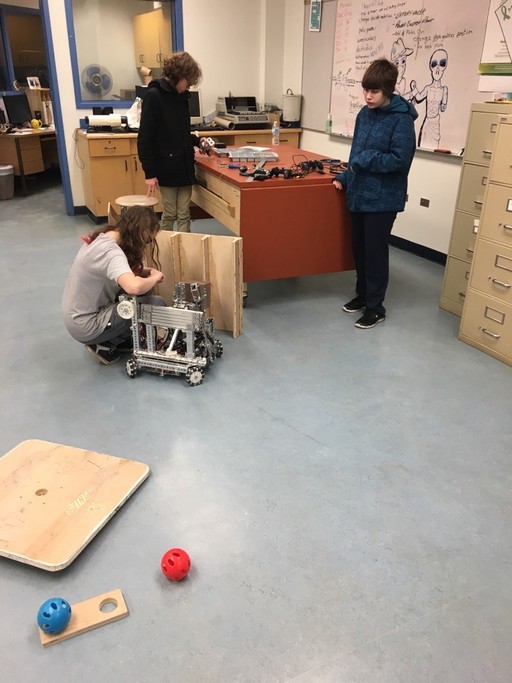 Sherwood Park, AB. — Students from Fort Saskatchewan High and Strathcona Christian Academy (SCA) Secondary are gearing up to compete in this year's FIRST Tech Challenge Alberta Championship, an international robotics competition for students in both junior high and senior high.
Teams from each school will join roughly 250 students, in grades 7-12, from across Alberta at the Telus World of Science in Edmonton on January 27-28. There, they will design, build and program a robot—complete with sensors, motors, gears and software—to compete in an alliance format against other Alberta-based teams.
"Since September, our team's been working on the robot, developing, strategizing and perfecting it, while also honing their Java programming, AutoCAD design, electronics and wiring skills," says Rick Kobylnyk, the robotics teacher at Fort Saskatchewan High and the coach for this year's Sting Robotics team. "They are learning firsthand what it takes to design, prototype and build a mechanical-digital machine with a specific set of tasks—while also gaining important lessons in communication, teamwork and leadership. It's project-based learning at its core."
Throughout the competition, each team works with their robot in an alliance with another team playing the game Relic Recovery. The goal: to score more points than the opponent does. Points are scored by recovering as many glyphs, jewels and relics as possible from the playing field and then placing them in a designated area—the cryptobox. During the first 30-seconds, robots are operated in an autonomous period using pre-programmed instructions. It then moves to a two-minute driver-controlled period where in the last 30 seconds four relics can be placed outside the playing field for added scoring opportunities.
"It's fun, it's innovative and also incredibly challenging for students," says James Ng, one of the two coaches working with SCA Secondary's Cyber Eagles Robotics team. "The task requires an enormous amount of time, planning and problem-solving that also complements what students are learning in the classroom—science, technology, engineering and math (STEM). Our team's ready and my hope is, along with the excitement of the competition, it will also shine a light on the STEM initiatives at SCA Secondary."
Both teams competed in last year's FIRST Tech Challenge. SCA Secondary's Cyber Eagles took home top place for a three-team alliance and Fort Saskatchewan High placed second overall out of more than 30 teams.
"We're really excited and I think we'll do well again this year," says Catherine Gelmini, a member of the Cyber Eagles Robotics team. "All of us have had an interest in robotics since elementary. I think that has benefited the team. We're able to really connect with one another and learn and grow together."
In total, 15 FIRST Tech Challenge awards are up for grabs—ranging in category from the Winning Alliance to the Inspire Award to the Design Award. Both the top team and the team handed the Inspire Award advance to the FIRST World Tech Challenge in Houston.
Elk Island Public Schools is one of Alberta's largest school divisions, serving approximately 17,150 students in 42 schools. We are proud to be an integral part of our communities, including Sherwood Park, Fort Saskatchewan, Vegreville, Strathcona and Lamont counties, and the western portion of the County of Minburn.
–30–
For more information contact:
Laura McNabb, director, Communication Services, EIPS 780-417-8204 cell 780-405-4902