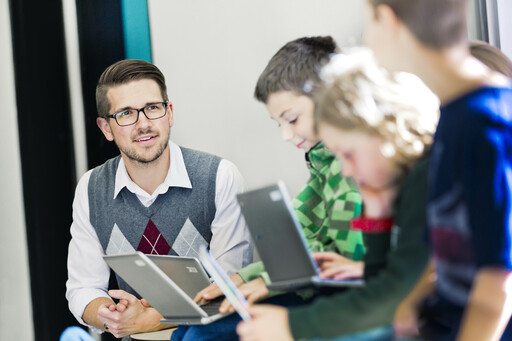 Sherwood Park, AB. — Sometimes the best way to learn is to meet, build and share.
That's the premise behind Scratch Day and Jour du Scratch, three fun-filled days of coding aimed at introducing students to computer-programming. "Every year at Scratch Day I get the chance to test my skills and make new friends," says Samantha Ralston, a Grade 9 student at Rudolph Hennig Junior High. "It's a fun way to spend the day, and learn programming at the same time."
Over 800 Elk Island Public Schools (EIPS) students in grades 4 to 9 are attending this year's Scratch Day and Jour du Scratch, taking place at Strathcona Community Centre's Agora, April 23-25. Using an application known as Scratch—one of the world's leading computer languages used to teach youth how to code and program—students are introduced to computational thinking, coding processes and tasked with designing games, animation and digital stories. Students also participate in a series of challenges, in a somewhat gamified environment, and then present their completed projects to the rest of the participants at the event.
"Whether they're returning or it's their first year participating, our students are always excited for Scratch Day," says Danielle Nelson, a learning consultant at Elk Island Public Schools. "Throughout the day, we teach them the basics of coding using a simple, drag-and-drop platform. What's great about this event is they don't need any prior understanding of programming languages, they can jump right in. We want students to approach technology creatively, reason systematically and work collaboratively—essential life skills no matter where life takes them."
Originally launched in 2007, Scratch Day is gaining momentum around the globe. EIPS is one of hundreds of schools and organizations worldwide that currently hosts Scratch Day celebrations, and was one of the first school divisions in Canada to do so.
Representatives of the media, family and community are invited to join students as they take part in this year's Scratch Day activities. There will also be an opportunity to take photos and speak with students.
Event Details:
Dates: April 23 (Elementary English)
            April 24 (Elementary French)
            April 25 (Junior High)
Time: 9 a.m. to 12 p.m.
Location: Strathcona Community Centre's Agora, 401 Festival Ln., Sherwood Park
EIPS is one of Alberta's largest school divisions, serving approximately 17,150 students in 42 schools. We are proud to be an integral part of our communities, including Sherwood Park, Fort Saskatchewan, Vegreville, Strathcona and Lamont counties, and the western portion of the County of Minburn.
–30–
For more information contact:
Danielle Nelson, Consultant, Career and Learning Design, Supports for Students, EIPS 780-417-8114
Laura McNabb, Director, Communication Services, EIPS 780-417-8204 cell 780-405-4902