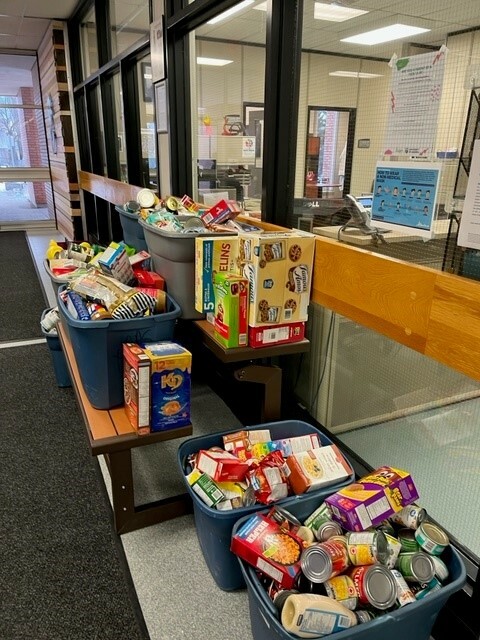 Sherwood Park, AB. — Elk Island Public Schools (EIPS) students and staff are embracing the spirit of the holidays by organizing a variety of charitable activities and giving back to their communities. Divisionwide, schools are running fundraisers and collecting non-perishable food items, clothing, toys and various household items for several non-profit organizations across the region.
"These collection drives are a tangible example for students of how each person can effect positive change and the impact those actions can have when we all work together," says Trina Boymook, the Board Chair at EIPS. "We're grateful for the generosity of EIPS school families and the community in supporting these charitable initiatives at Division schools, and we're proud to be part of the communities we serve and give back where we can."
Many of the charity drives are well underway and running throughout the month of December.
Throughout November, December and even into the new year, several schools are collecting donations for local food banks in Fort Saskatchewan, Lamont County and Strathcona County.
Clover Bar Junior High held a reverse advent calendar food bank drive, in which homerooms were challenged to each gather 30 items throughout November. With a focus on gratitude for all they have and how they can help those who have less, students collected 792 items to help families experiencing challenging times.
Fort Saskatchewan Elementary will hold its food bank drive in February 2022.
James Mowat Elementary is running a Mac and Cheese fundraiser for the local food bank throughout the holiday season.
Mundare School and EIPS Central Services are collecting food bank donations in December.
Throughout November, a group of Brentwood Elementary staff participated in Movember, raising $925 and important awareness for men's health projects. From November 15 to December 3, the school held its 14th annual clothing drive for the Bissell Centre—spearheaded by Mr. Smith's Grade 6 class—and in December, the staff and school council have organized a food bank donation drive.
Davidson Creek Elementary and Wes Hosford Elementary are collecting monetary donations for the Strathcona Christmas Bureau to help provide hampers of food and gifts to those less fortunate.
EIPS students will also celebrate the season with various holiday performances. While many events are taking place virtually, students, music teachers and other school staff have brainstormed innovative ways to continue sharing the holiday spirit with school families even if they aren't gathering for in-person concerts.
"School concerts are one of the highlights of the year for the Board of Trustees and all our school families," says Boymook. "Trustees and families alike love seeing all the hard work of students and staff come together in a great performance, and you can feel the magic of the holidays as students share their energy and excitement with the audience."
Details about individual school concerts—including where to catch the virtual performances—will be shared with school families as details are finalized for each school.
EIPS is one of Alberta's largest school divisions, serving approximately 17,125 students in 43 schools. We are proud to be an integral part of our communities, including Sherwood Park, Fort Saskatchewan, Vegreville, Strathcona and Lamont counties, and the western portion of the County of Minburn.
–30–
For more information contact:
Laura McNabb, director, Communication Services, EIPS 780-417-8204 cell 780-405-4902