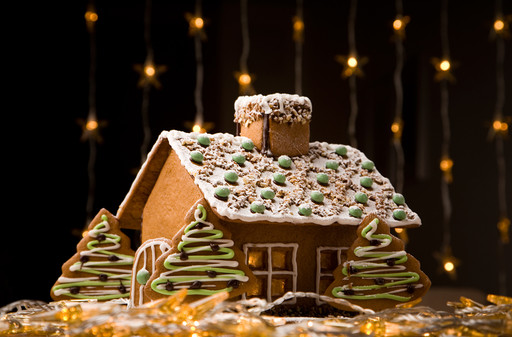 Sherwood Park, AB. — Representatives of the media, families and community members are invited to join Salisbury Composite High as it hosts the 2017 High School Invitational Gingerbread House Competition, an annual culinary competition showcasing inventive gingerbread ideas, on December 9.
During the invitational, students from Salisbury Composite High and Bev Facey Community High will go head to head with other high schools from around the region baking and designing gingerbread houses made entirely out of edible material—graham crackers, gumdrops, gummy bears, icing and other materials. Each creation will then go before a panel of judges, made up of seasoned culinary professionals, who will assess each entry based on its overall appearance, originality, level of difficulty and theme.
"We're going with a nautical theme, featuring a sinking ship that has just crashed into an iceberg with food spilling out of its cargo hold," says a team member from Bev Facey Community High, adding his three-member team has worked on their design for almost two weeks. "The learning curve's huge. It's a lot of work but definitely worth it and I think we all have a new appreciation for the profession. We're still not sure what we'll do with the ship after the competition but we'll take a lot of photos to commemorate it and hopefully display it at the school."
The event is open to the entire community and includes cookie decorating activities for children of all ages, a brunch and door prices. Participants will also have a chance to meet the honourary guest, Santa Claus himself. Tickets can be purchased at Salisbury Composite High's main office or at the door.
"The competition is a fun community-oriented event that celebrates the holidays and all things gingerbread," says Cathy Allen, the principal of Salisbury Composite High. "It's quite a challenge to design something made entirely of edible ingredients. Students have put a ton of time into these and are excited to finally showcase their tasty creations and, culinary flair. It's guaranteed to be a fun-filled day that the entire family can enjoy."
Event Details:
Date: Dec. 9, 2017
Time: 10:30 a.m. to 1:30 p.m.
          Brunch served at 11 a.m.
          Awards presented at 1 p.m.
Place: Salisbury Composite High, 20 Festival Way, Sherwood Park
Tickets: Purchase at the door — $7.50 (adults); $5 (ages six to eight); free (ages five and under). 
NOTE: Principals have the responsibility to limit media coverage only to students approved for interviews. Reporters attending the event are requested to receive permission from a school EIPS representative before interviewing or photographing students. Thank you for your co-operation, and for joining us.
–30–
For more information contact:
Cathy Allen, principal, Salisbury Composite High, 780-467-8816
Laura McNabb, director, Communication Services, EIPS 780-417-8204 cell 780-405-4902