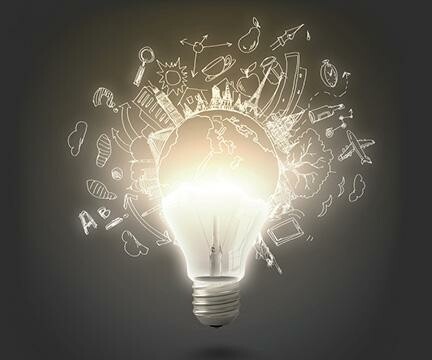 Sherwood Park, AB. — With their self-created products, market-wise slogans and well-rehearsed elevator pitches, young inventors from Elk Island Public Schools (EIPS) are sure to impress at the fourth annual Invention Convention—taking place at F.R. Haythorne Junior High on May 31. "In our DIY class we look at a real-life problem and come up with a prototype solution," says Eden Cole, a Grade 8 student at F.R. Haythorne Junior High. "Our group decided on something personal to us, which allowed us to use the strengths of each of the members and learn new skills. All of us are nervous and excited to unveil it tomorrow."
The Invention Convention, hosted by EIPS and The Learning Partnership, is an innovative program that offers students the opportunity to demonstrate the skills they've mastered in class by inventing a new product or process. In September, students were introduced to The Learning Partnership's Investigate! Invent! Innovate! (I3) program, which integrates science, technology, engineering and math with 21st century competencies. All participating students were asked to identify a problem in their daily lives and then create something, using the skills they've learned in class, to make their lives easier.
"Students have been working on their inventions all year, from the research phase all the way up to their final pitches," says Jonathon Thomas, a consultant with Career and Learning Design at EIPS. "The Invention Convention allows us to foster the development of basic science, engineering and math skills in a way that also encourages students to think creatively, problem solve and experiment."
In total, more than 110 junior high students will showcase their inventions at the 2019 Invention Convention. Some of the inventions include a self-cutting lawnmower, a SmartDesk, an entertainment system for the shower, an avalanche survival helmet, an environmentally friendly balloon, plus much more.
"Investigate, invent and innovate—that's what the I3 program challenges students to do," says Kevin Stevenson, the Program Manager of The Learning Partnership's I3 program. "And, that's why it works. It's an authentic learning opportunity encouraging students to explore their investigative, inventive and innovative experience. The result: exceptionally creative projects and an instilled passion for science, math and technology, which will serve them well in their future careers."
A special thanks to The Learning Partnership for sponsoring the Invention Convention, F.R. Haythorne Junior High for hosting the event and to those participating from Ardrossan Junior Senior High and F.R Haythrone Junior High.
Representatives of the media, family and community are invited to join students to explore their interactive exhibits. There will also be an opportunity to take photos and to speak with students about their clever inventions.
Event details:
Date: May 31, 2019
Time: 10 a.m. to 11:30 a.m.
Location: F.R. Haythorne, gymnasium, 300 Colwill Blvd., Sherwood Park
EIPS is one of Alberta's largest school divisions, serving approximately 17,150 students in 43 schools. We are proud to be an integral part of our communities, including Sherwood Park, Fort Saskatchewan, Vegreville, Strathcona and Lamont counties, and the western portion of the County of Minburn.
–30–
For more information contact:
Jonathon Thomas, Consultant, Supports for Students, EIPS 780-987-9344
Laura McNabb, Director, Communication Services, EIPS 780-417-8204 cell 780-405-4902