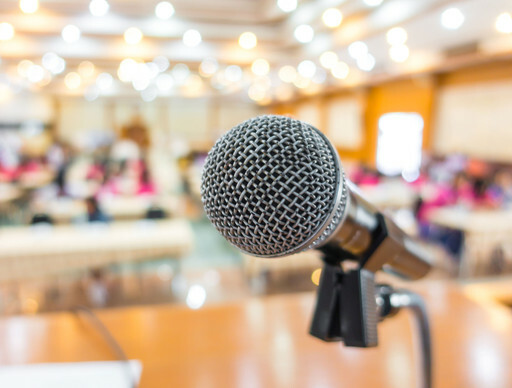 Sherwood Park, AB. — More than 70 of the top student speakers from 25 elementary schools in Elk Island Public Schools (EIPS) are getting set to compete in the ninth annual EIPS Young Speakers Invitational on April 18.
Over the last few months close to 3,700 EIPS students in grades 4 through 6 competed in speech competitions at their schools in front of a panel of independent judges. Three finalists from each school, one in each grade, were chosen and now move on to compete in this year's EIPS Young Speakers Invitational.
"This competition helps our students to develop an appreciation for clear and effective communication skills," says Jordan Smith, the event co-ordinator and a teacher at Brentwood Elementary. "It's so important to be able to stand up and speak passionately about something that's meaningful to you, and it's a skill that will serve our students well no matter where life takes them."
Students who have advanced to the Young Speakers Invitational will now present their speeches to a panel of judges in a preliminary round. The top four from each grade will then advance to the final round and present their speeches one last time. Judges will grade students on their ability to meld quality and organized content in a manner that's presented with interest and conviction. All participating students will take home a special prize and those who make it to the finals will receive a commemorative plaque.
"I'm so excited to be competing this year," says Chloe Salvalaggio, a Grade 4 student from Brentwood Elementary who is competing in this year's invitational. "I've been practicing a lot, so I hope I do well. My entire family is going to be coming to cheer me on."
In addition to the competition, the EIPS Young Speakers Invitational will also include its annual silent auction, with all proceeds going towards the Robin Hood Association. Last year, the auction brought in more than $2,800 and since its inception, has raised close to $32,000.
Participating EIPS schools include: A.L. Horton Elementary, Andrew School, Ardrossan Elementary, Brentwood Elementary, Bruderheim School, École Campbelltown, Davidson Creek Elementary, Fort Saskatchewan Christian, Fort Saskatchewan Elementary, Fultonvale Elementary Junior High, Glen Allan Elementary, James Mowat Elementary, Lakeland Ridge, Lamont Elementary, Mills Haven Elementary, Mundare School, École Parc Élémentaire, Pine Street Elementary, SouthPointe School, Uncas Elementary, Wes Hosford Elementary, Westboro Elementary, Win Ferguson Elementary, Woodbridge Farms Elementary and Wye Elementary.
Representatives of the media are invited to join EIPS and students at the 2019 EIPS Young Speakers Invitational.
Event Details:
Date: April 18, 2019
Doors open: 4 p.m. 
Preliminaries: 5:15 p.m.
Finals: 7:30 p.m.
Venue: Agora, Strathcona County Community Centre, 401 Festival Ln., Sherwood Park
Ticket price: Free
EIPS is one of Alberta's largest school divisions, serving approximately 17,150 students in 43 schools. We are proud to be an integral part of our communities, including Sherwood Park, Fort Saskatchewan, Vegreville, Strathcona and Lamont counties, and the western portion of the County of Minburn.
–30–
For more information contact:
Jordan Smith, Event Co-ordinator, 780-467-5591
Laura McNabb, Director, Communication Services, EIPS 780-417-8204 cell 780-405-4902