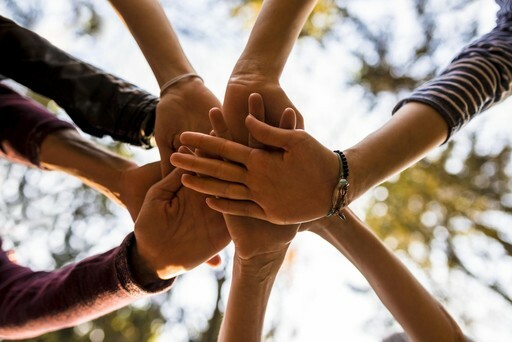 Sherwood Park, AB. — Staff and students throughout Elk Island Public Schools (EIPS) are planning a variety of activities to promote kindness and healthy relationships in honour of this year's National Bullying Awareness Week (NBAW), which takes place November 18-22.
Launched in 2002, NBAW is an annual event celebrated around the world to boost awareness among students, staff, families and community members about bullying and ways to prevent incidents of it in their schools. Within EIPS, students and staff will spend the week discussing how to foster healthy relationships, discourage intolerances and communicate through conflict.
"Promoting welcoming, caring, respectful and safe learning spaces for all students is a key priority for the Division," says Trina Boymook, the Board Chair of EIPS. "Year-round, we try to find opportunities to teach students about healthy relationships and empower them to stand up, work together and do the right thing. And, that's what this week is all about: Reminding learners about the importance of kindness and being compassionate citizens—both at school and in their daily lives."
Throughout National Bullying Awareness Week, various activities are planned Divisionwide, including school assemblies, morning announcements, presentations, performances themed around healthy relationship building, lesson plans on conflict-resolution, deeds of kindness and much more. Additionally, all EIPS schools have ongoing projects and initiatives in place focused on building healthy relationships such as the Seven Sacred Teachings, Random Acts of Kindness, Bucket Fillers, Leader in Me and various community-service programs.
"Collectively, staff, students, families and community partners all play a role in creating and maintaining welcoming, caring, respectful and safe learning environments in our schools," says Tracy Muth, the Director of Specialized Supports at EIPS. "Often, young people stay silent about bullying. They're more likely to report it to their friends or family than a teacher. So, by working together, we have the power to change bullying behaviour and create better environments for all students. National Bullying Awareness Week is one of the ways we're doing this by bringing attention to the importance of positive and healthy relationships."
Members of the media, parents and community are invited to join EIPS students for the following NBAW events:
Bully Escape Room: A game where students work co-operatively to solve a set number of puzzles—all focused on kindness and healthy relationships—to ultimately unlock a code to win the game.
Date: Nov. 22, 2019
Time: 1 p.m. to 2 p.m.
Location: Fort Saskatchewan Elementary; 9802 101 St.; Fort Saskatchewan, main office
Campfire Tales: Students listen to oral stories, based on Seven Sacred Teachings, that focus on positive actions and strong character.
Date: Nov. 21, 2019
Time: 1:30 p.m. to 2:15 p.m.
Location: Lamont Elementary, 4723 50 Ave., Lamont
Posting Kindness: Every class is creating a Post-it note with a written accolade or positive comment. Once complete, students will place their note on a wall to create, in real-time, a schoolwide Post-it note mosaic.
Date: Nov. 19, 2019
Time: 1 p.m. to 1:20 p.m.
Location: Sherwood Heights Junior High; 241 Fir St.; Sherwood Park
EIPS is one of Alberta's largest school divisions, serving approximately 17,400 students in 43 schools. We are proud to be an integral part of our communities, including Sherwood Park, Fort Saskatchewan, Vegreville, Strathcona and Lamont counties, and the western portion of the County of Minburn.
–30–
For more information contact:
Laura McNabb, Director, Communication Services, EIPS 780-417-8204 cell 780-405-4902