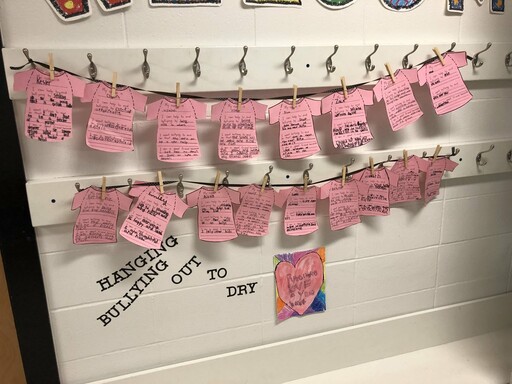 Sherwood Park, AB. — Today, students and staff throughout Elk Island Public Schools (EIPS) are showing their support for welcoming, caring, respectful and safe learning environments by wearing pink.
Division wide, students and staff are participating in Pink Shirt Day, an annual event meant to encourage healthy relationships and raise awareness about bullying prevention. Launched in 2007, the movement started after two high school students in Nova Scotia witnessed a younger student being bullied for wearing a pink shirt. The next day, they brought 50 pink t-shirts to school and encouraged classmates to wear them as a way to take a stand against bullying. The concept took hold. Today, Pink Shirt Day is celebrated in schools and workplaces nationwide, and has raised more than $1.5 million for healthy relationship programming.
"Pink Shirt Day is an opportunity to get our students to think about the importance of building positive and healthy relationships," says Trina Boymook, the Board Chair of EIPS. "Initiatives like this create positive impacts in our schools, and help to develop our Division's priority of creating welcoming, caring, respectful and safe learning spaces for all students."
Throughout EIPS, various activities are taking place including school assemblies, guest-speaker presentations, lesson plans themed around building healthy relationships, random acts of kindness deeds and more. Additionally, EIPS schools have ongoing projects and initiatives in place geared towards building healthy relationships in the school and the community. Some examples include the Seven Habits, Random Acts of Kindness, the Show Love project, Bucketfillers, Leader in Me and various community-service programs.
In addition to wearing pink and individual school activities, EIPS staff and students are also showing their support for Pink Shirt Day by posting positive and respectful messages on various social media platforms using the hashtag #PinkItForward. For every #PinkItForward message posted online, Coast Capital Savings, a British Columbia-based credit union, is donating $1 to bullying prevention programs.


EIPS is one of Alberta's largest school divisions, serving approximately 17,150 students in 43 schools. We are proud to be an integral part of our communities, including Sherwood Park, Fort Saskatchewan, Vegreville, Strathcona and Lamont counties, and the western portion of the County of Minburn.
–30–
For more information contact:
Laura McNabb, Director, Communication Services, EIPS 780-417-8204 cell 780-405-4902