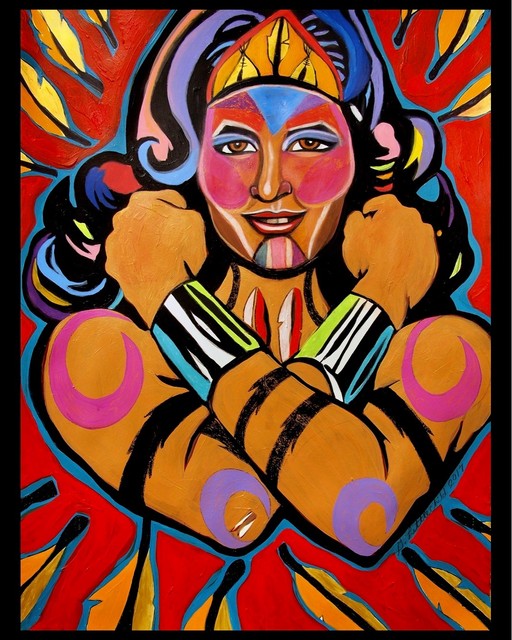 Sherwood Park, AB. — Representatives of the media, families and community members are invited to join students from Pine Street Elementary as they take a lead role in unveiling Gallery@501's newest exhibition, The Art of Truth and Reconciliation, by acclaimed First Nations artist George Littlechild. "I'm excited to be part of this because we've been learning a lot about First Nations, Métis and Inuit history and culture," says AJ, a Grade 6 student at Pine Street Elementary. "What I've learned is that Indigenous people can teach us many important lessons and perspectives."
As the name suggests, The Art of Truth and Reconciliation exhibition offers a powerful message about truth and reconciliation aimed at creating a dialogue between Indigenous and non-Indigenous communities to aid healing through shared experiences. During the unveiling, the students, under the guidance of Elder Wilson Bearhead, will perform a smudge ceremony, a traditional drumming and an original song in keeping with First Nations tradition. Following the launch, Littlechild will spend the next week with Grade 6 students from Pine Street Elementary as the artist-in-residence. Together they'll create various pieces of artwork themed around reconciliation, Indigenous history and social justice.
"Pine Street Elementary is committed to teaching about truth and reconciliation in our school and part of that is finding opportunities to make the learning meaningful and authentic," says Sarah Choo, a teacher and the First Nations, Métis and Inuit lead at Pine Street Elementary. "The unveiling does exactly that. It's a way to complement and celebrate what they are learning in the classroom in a very real and hands-on way."
Over the last year, students at the school have taken part in various activities to introduce truth and reconciliation. One is the Project of Heart, a nationwide initiative that includes lesson plans around Indigenous history and culture. Since introducing the program in 2016, students have participated in four of the of the five distinct steps—learning about the history of residential schools; focusing on a particular residential school; completing the "first gesture of reconciliation," which encourages students to communicate their feelings through art; and hearing first-hand accounts from intergenerational residential-school survivors.
"Now with George Littlechild's artist-in-residence program, we are moving to Step 5—creating a social-justice action plan," says Choo. "He'll help guide students to create their own artwork that reflects their own thoughts and feelings, which they can then use to help educate the community and act as a reminder of the school coming together to learn something that's so important. Ultimately, what we want is to continue to support our community, school and Division's journey towards reconciliation and show students they have a voice to make a change in their world."
Looking ahead, Pine Street Elementary plans to continue to incorporate Project of Heart lessons in to its curriculum and find ways to also educate the larger community. A special thanks to the Strathcona County Gallery@501 for supporting the artist-in-residence project.
Event Details: "The Art of Truth and Reconciliation" Unveiling
Date: March 9
Time: 7 p.m.
Location: Gallery@501; 120, 501 Festival Ave.; Sherwood Park
Photo Ops: Students performing, George Littlechild, Elder Wilson Bearhead, artwork featured in the "The Art of Truth and Reconciliation" exhibition
NOTE: Principals have the responsibility to limit media coverage only to students approved for interviews. Reporters attending the event are requested to receive permission from a school EIPS representative before interviewing or photographing students. Thank you for your co-operation, and for joining us.

–30–
For more information contact:
Sarah Choo, teacher, Pine Street Elementary 780-467-2246
Laura McNabb, director, Communication Services, EIPS 780-417-8204 cell 780-405-4902