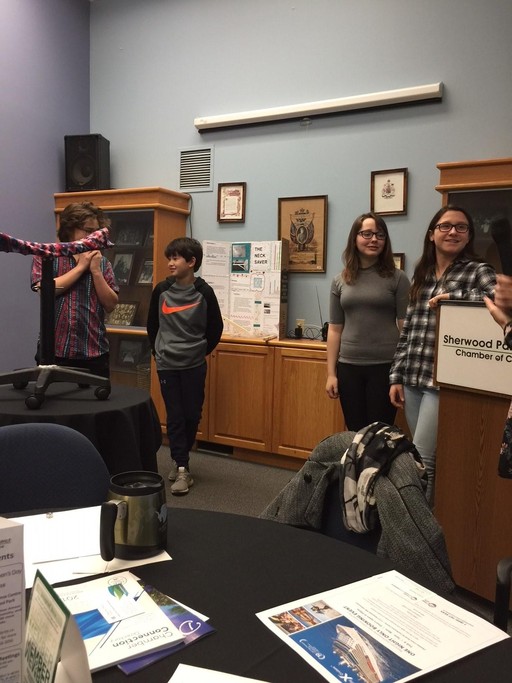 Sherwood Park, AB. — When students at Clover Bar Junior High were tasked with creating and developing a solution to a real-world problem, they not only delivered on that challenge but took it one step further. "We hosted our own Dragons' Den at the school to find out if our inventions really had legs," says Danny Fehr, a Grade 8 student at Clover Bar Junior High. "It taught us failure is part of the process—we may have to try over and over again to get things right but in the end, it's what helps us learn and eventually succeed."
Fehr is one of 31 students enrolled in the school's Investigate! Invent! Innovate! (I3) class, a program aimed at fostering basic science, technology, engineering and math skills while also encouraging students to think creatively, problem solve and experiment. "The course is designed to mimic the process inventors go through," says Tara Yeo, the I3 teacher at Clover Bar Junior High, "from the moment they realize they have a unique idea to when their invention hits the market.
At the start of the year, students were asked to identify a problem in their daily lives and then create something—using the skills they've learned in class—to solve it. Teams of students worked for months designing, building and perfecting their inventions, which range in theme from an adjustable foot rest to a storage unit for sport equipment to a holding and viewing unit for electronics. They were then tasked with developing a strong marketing campaign and pitch to promote their new product. To test how sound their campaigns were, the school invited three local entrepreneurs to evaluate their inventions by participating in a Dragons' Den-inspired event.
"The dragons were so impressed by the inventions and quality of the pitches that they asked the top three teams to share their pitches with the broader business community," says Yeo. "It think what stood out for the dragons was the time and effort put in to each invention, which stems from the course focus: learning to think creatively, troubleshooting and making each iteration better than the last."
The dragons delivered on their offer, and arranged a breakfast with the local business community hosted by the Sherwood Park and District Chamber of Commerce. Students prepared and refined their pitches and then presented them to an audience of roughly 50 local business owners. "Everyone applauded the ideas and offered constructive, thoughtful advice on how to improve and even bring them to market," says Yeo. "Some of the students are now thinking about their ideas beyond the scope of this class. You never know, we may see one or two of the student designs on the market one day."
Clover Bar Junior High serves approximately 400 students in grades 7 through 9 and is one of 42 schools within Elk Island Public Schools. More information about the school is available at www.cloverbar.ca.
–30–
For more information contact:
Tara Yeo, teacher, Clover Bar Junior High 780-467-2295
Laura McNabb, director, Communication Services, EIPS 780-417-8204 cell 780-405-4902