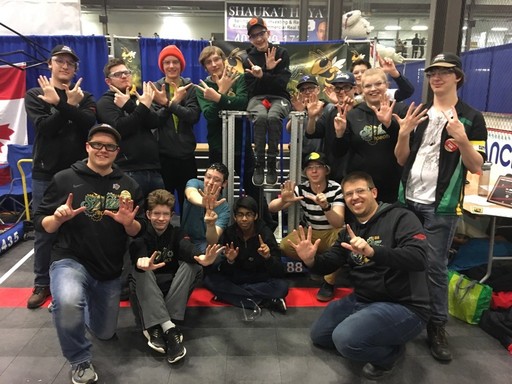 Sherwood Park, AB. — Congratulations to Fort Saskatchewan High's Sting Robotics team for its excellent standing at this year's For Inspiration and Recognition of Science and Technology (FIRST) Robotics Competition, an international competition made up of 35 teams from Western Canada, the United States, Mexico, Germany and Turkey. "It's a pretty big deal we placed so well against such experienced teams," says Connor, a Grade 12 student at Fort Saskatchewan High. "There was a bit of pandemonium on the first days qualifying, which actually helped lead to an amazing experience and a stellar performance in the competition."
Since January, the team has been busy designing, building and programming an industrial-size robot—with sensors, motors, gears and software—as part of the school's FIRST robotics program. To put the robot to the test, students competed in the recent 2018 FIRST Robotics Competition. Throughout the competition, teams work with their robot using an alliance format playing the game First Power Up. The goal: to score more points than the opponent. Points were gained by stacking cubes on various pivoting scales and programming the robot to perform specific tasks on the field. Overall, the Sting Robotics team took home an impressive seventh place finish—one of only two Canadian teams to place within the top 10.
"It's as close to real-world engineering as a student can get," says Rick Kobylnyk, the FIRST Robotics teacher at Fort Saskatchewan High. "We're taking concepts the students are learning in the classroom and applying those to complex, multi-faceted problems that require teamwork and creativity."
The Sting Robotics team is made up of 30 students in grades 10-12, all of whom are enrolled in the school's FIRST robotics program—earning credits in electro-technology, computer programming and Career and Technology Foundations. Its goal is twofold: for students to learn about the science, technology, engineering and math (STEM) sectors and to understand what career paths exist within it. The FIRST robotics program also includes a mentorship component that pairs students with technical professionals from Dow Canada.
"One of our goals at Fort Saskatchewan High is to continually encourage our students to apply the skills they're learning to real-world problems," says Kobylnyk. "With the students placing as well as they did, it demonstrates they're developing the skills and knowledge needed to harness opportunities available in the STEM sector."
In addition to its seventh place finish, the team also took home the ULC Safety Award, handed out for excellence in robotic pit maintenance and efficiency. Congratulations to all members of the Sting Robotics team for an outstanding performance at this year's FIRST Robotics Competition.
Fort Saskatchewan High serves approximately 440 students in grades 10 to 12 and is one of eleven high schools in Elk Island Public Schools. More information about the school is available by visiting www.forthigh.ca.

–30–
For more information contact:
Rick Kobylnyk, teacher, Fort Saskatchewan High 780-998-3751
Laura McNabb, director, Communication Services, EIPS 780-417-8204 cell 780-405-4902