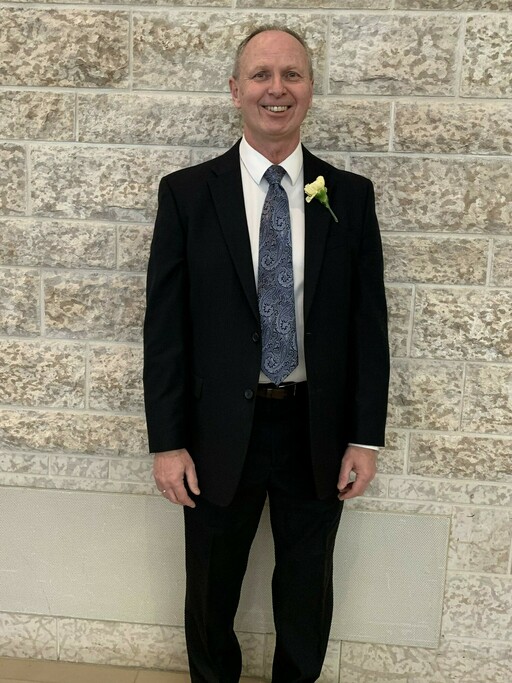 Sherwood Park, AB. — In September 1979, David Canning walked into Brentwood Elementary with a smile on his face, eager to greet his first class as a new teacher. Now, 40 years later, still smiling from the memories he's made and the countless lives he's helped shape, he's decided to leave the classroom behind and move forward into the next exciting chapter of his life. "Students pass through your classroom and move on, out of your life, but the bonds you make never really fade," Canning says. "I always run into past students—now adults—at places like the grocery store or the airport, and they always remember me fondly. That feeling of appreciation stays with you."
Canning dedicated just over half of his career as an elementary teacher, spending his first six years at Brentwood Elementary and the next 15 at Westboro Elementary. In 2000, he made the transition to teach math at Clover Bar Junior High, a position he's held ever since. While most students remember him for making math simple and approachable, Canning doesn't focus on just mathematics—he's used music as a teaching tool in his classroom almost since the beginning of his career, and has even received national recognition for his methods.
"I've always had a guitar in my classroom, even though I've never officially been a music teacher," Canning says. "Back when I taught elementary students, I would incorporate music into my poetry lessons, and we'd even write and record songs together." In 1991, Canning's principal nominated him for a national teaching award for his innovative work with music. He won, of course, and was honoured in Ottawa alongside the country's best educators.
Looking ahead, Canning is excited to develop some of the talents that have taken a backseat during his career, including guitar and hockey. Once his wife joins him in retirement, the two plan to begin travelling the world. 
Canning is one of 50 EIPS retirees this year who filled a number of diverse roles in the division, including principals, teachers, educational assistants, administrative and support staff. Together they have played an integral role in optimizing student successes across the Division. "On behalf of the Board of Trustees, I want to say thank you to the amazing staff at EIPS who, throughout their careers, dedicated an incredible amount of time and energy to our students," says Trina Boymook, the Board Chair for EIPS. "It's inspiring to see how much they've accomplished, and how instrumental they have been in making EIPS what it is today. I wish them all the best in their retirement."
Congratulations and thank you to David Canning and all of EIPS' 2019 retirees.
EIPS is one of Alberta's largest school divisions, serving approximately 17,150 students in 43 schools. We are proud to be an integral part of our communities, including Sherwood Park, Fort Saskatchewan, Vegreville, Strathcona and Lamont counties, and the western portion of the County of Minburn.
–30–
For more information contact:
Laura McNabb, Director, Communication Services, EIPS 780-417-8204 cell 780-405-4902