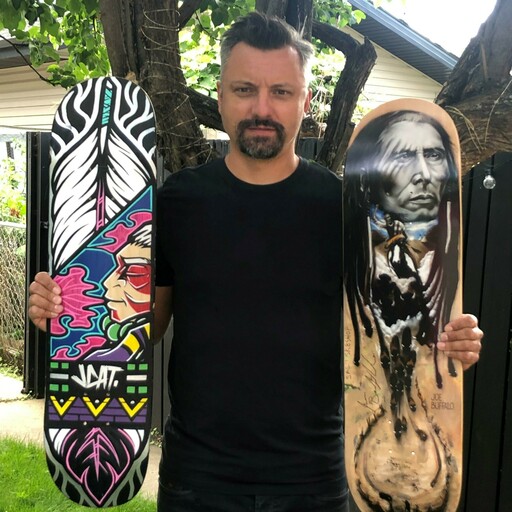 Sherwood Park, AB. — Taking an unconventional approach to exploring Indigenous culture and the enduring impact of colonialism is earning Salisbury Composite High teacher, Kristian Basaraba, national recognition. On November 23, Canada's History awarded him the coveted Governor General's History Award for Excellence in Teaching for his efforts to raise awareness in class and the community about reconciliation—all through intricate student-created designs on skateboard decks.
"On behalf of the Elk Island Public Schools Board of Trustees, I want to congratulate Mr. Basaraba on his creative approach to a topic of such stark importance for communities across the country," says Trina Boymook, the Board Chair of EIPS. "His exceptional efforts to share the history of colonialism in Canada and help his students strongly connect with the principles of truth and reconciliation have helped advance the discussion within his school and across the Division."
Last year, Basaraba and Salisbury students taking the sk8trepreneur course spent six weeks working with a trio of experts specializing in Indigenous history—Michel Blades, an First Nations, Métis and Inuit Lead; Joe Buffalo, a Cree professional skateboarder; and Jon Cardinal, a well-known Cree artist. Together they created various skateboard decks that incorporate the class learnings, about the history and effects of colonialism, into works of art that symbolize a call to action for social change. In total, the students produced 17 skateboard decks, which were each exhibited at Local 124, a skateboard store in Edmonton—and received significant attention and praise.
"Generations of Indigenous people have felt the devastating repercussions of colonialism," says Basaraba. "The project gave my class a chance to truly understand why we must take steps to redress the legacy of residential schools and the other harms done to Indigenous culture and lives. I'm honoured to be recognized with this prestigious award. Still, I want to say the project was successful because the community came together to ensure these critical lessons were shared and understood."
Basaraba is one of six recipients of the Excellence in Teaching Award, chosen from sixteen finalists. Each recipient receives a $2,500 prize. In addition, each school also receives $1,000.
The Governor General's History Awards are administered by Canada's History Society and recognize excellence in five categories: community programming, museums, popular media, scholarly research and teaching. The awards are Canada's top history honours and involve Canada's history and heritage community's leading agencies. Each award category is administered by the presenting organization and has its own jury, selection process and prize structure.
Related information:
Kristian Basaraba: A feature video
Canada's History New Release: Kristian Basaraba
Elk Island Public Schools is one of Alberta's largest school divisions, serving approximately 17,000 students in 43 schools. We are proud to be an integral part of our communities, including Sherwood Park, Fort Saskatchewan, Vegreville, Strathcona and Lamont counties and the western portion of the County of Minburn.
–30–
For more information contact:
Laura McNabb, Director, Communication Services, EIPS 780-417-8204 cell 780-405-4902