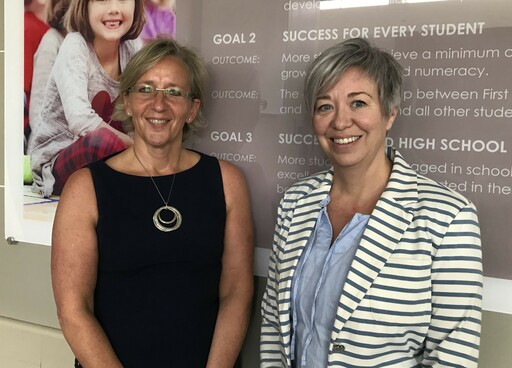 Sherwood Park, AB. — Today, at a regularly scheduled Elk Island Public Schools (EIPS) Board of Trustees meeting, trustees formally elected the Chair and Vice-Chair for the upcoming school year. Trina Boymook was elected Board Chair, and Heather Wall was elected Vice-Chair—both by acclamation. Together they will lead the Board of Trustees for the 2019-20 school year.
Board Chair Boymook was first elected as an EIPS trustee in October 2013—representing residents in Sherwood Park. Since joining the Board, she has served as Chair for seven consecutive years. Prior to joining EIPS, she worked in several leadership roles including President of the Alberta School Councils' Association (ASCA), Chair of EIPS' Committee of School Councils and a representative on various Alberta Education stakeholder advisory committees. Boymook is a vocal advocate for education and has worked diligently for years to ensure children and parent concerns are brought forward. Boymook also serves as the Vice-President of the Alberta School Board Association.
"It's a privilege to serve as the Chair of EIPS and I want to thank my fellow trustees for their support as we head into a new school year," says Boymook. "Our framework remains the same—support literacy and numeracy in all grades, from kindergarten to Grade 12, and build on our successes from previous years. I'm excited about what's to come and look forward to working with all our communities to ensure all students attending EIPS reach their full potential."
Vice-Chair Wall was first elected as an EIPS trustee in October 2013—representing residents in Fort Saskatchewan. Her background includes several leadership roles and more than 25 years working as a registered nurse. Wall believes strongly, literacy is the building block of all education and necessary for children to achieve their individual level of excellence. The 2019-20 school year marks Wall's third consecutive term as Board Vice-Chair.
"I consider it a great honour to serve as Vice-Chair and I'm grateful for the opportunity," says Wall. "The year ahead will present new opportunities and new challenges. As a Board, we remain focused on student achievement and success, and supporting a staff with the same mandate. Our goal, of course, is to ensure high-quality education for all students."
EIPS has a nine-member Board representing approximately 17,150 students and their families in Sherwood Park, the City of Fort Saskatchewan, the Town of Vegreville, Strathcona County, Lamont County and the western portion of the County of Minburn. Throughout the year, trustees meet as a Board and in committees on a regular basis to ensure students receive the best education possible.
At the meeting, the Board of Trustees also approved its regular Board meeting schedule. The first meeting takes place on Sept. 26, 2019.
Elk Island Public Schools is one of Alberta's largest school divisions, serving approximately 17,150 students in 43 schools. We are proud to be an integral part of our communities, including Sherwood Park, Fort Saskatchewan, Vegreville, Strathcona and Lamont counties, and the western portion of the County of Minburn.
–30–
For more information contact:
Laura McNabb, Director, Communication Services, EIPS 780-417-8204 cell 780-405-4902