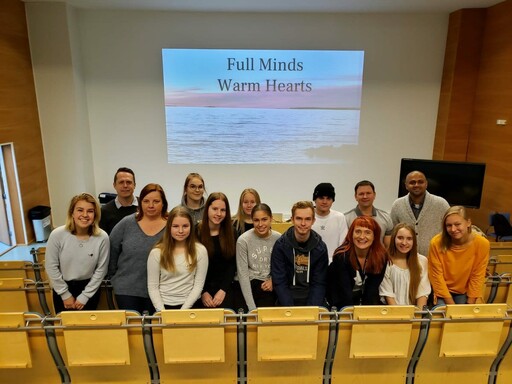 Sherwood Park, AB. — Elk Island Public Schools (EIPS) welcomed close to 30 visitors from Finland over the weekend as part of an exciting international research partnership. Known as FinAl, this three-year partnership connects schools from Finland and Alberta, with the aim of highlighting both education systems so that each partner can learn from the successes of the other. "Our goal is to determine what makes schools great, whether that's here in Alberta or in Finland," says Sunny Sandhu, the Principal at Fort Saskatchewan High. "What's exciting about this partnership is that it puts students first, and allows them to lead the conversation when it comes to talking about the student educational experience. It's a real grassroots model and so far, it's been a great success."
The visit, running from May 3-11, marks the second half of this year's exchange, following a trip by EIPS staff and students to Finland in fall 2018. EIPS partners will have the chance to reciprocate the hospitality and kindness they received in Finland while they give their guests a firsthand look at Alberta culture and education. During the day, both students and staff will be hard at work getting a feel for our province's education practices, while evenings and weekends will include trips to must-see spots like Jasper, Elk Island National Park and West Edmonton Mall.
Fort Saskatchewan High and Lamont High are acting as hosts for the Finnish guests, but the trip will include a tour of multiple schools across the Division, highlighting the large amount of programming that is offered by EIPS. "Our hope is that our friends from Finland are able to gain an appreciation for the diversity that can be found across our Division," says Amit Mali, the Principal at Lamont High. "We're very excited to showcase the variety of programming that we offer our students, and the many ways they can find success in their education."

While this is the last trip of the school year, the FinAl partnership is slated to run until 2021, and will include many more visits and collaborations in the years to come.
EIPS is one of Alberta's largest school divisions, serving approximately 17,150 students in 43 schools. We are proud to be an integral part of our communities, including Sherwood Park, Fort Saskatchewan, Vegreville, Strathcona and Lamont counties, and the western portion of the County of Minburn.
–30–
For more information contact:
Jeff Spady, Director, Career and Learning Design, 780-417-8170
Laura McNabb, Director, Communication Services, EIPS 780-417-8204 cell 780-405-4902