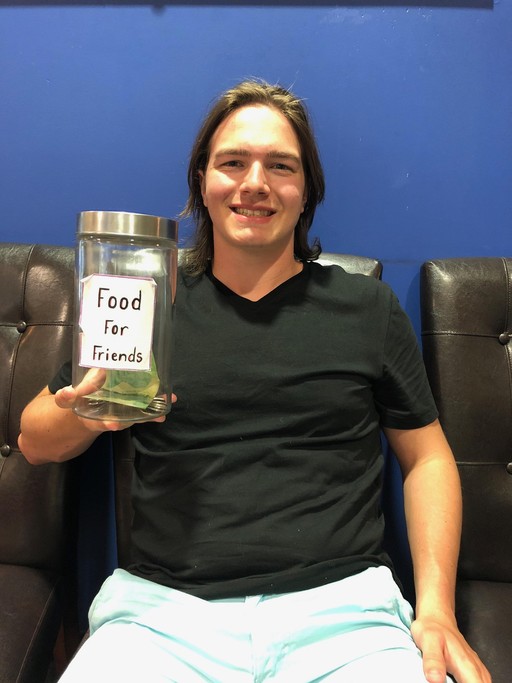 Sherwood Park, AB. — You never know when someone may be going through a hard time. That's the message behind Food for Friends, a student-led initiative at Strathcona Christian Academy (SCA) Secondary. Josh Gaida, a Grade 12 student, started the program as a way to pay it forward to his community, who supported him after both his parents died. There will be a final call for donations at the chapel, on May 24.
"I wanted to find a way to give back to my community," says Gaida. "It's important to me that I can try to offer the same help I had during such a difficult time."
When Gaida was just eight-years old, his mother passed away from complications of her ongoing autoimmune disease. The family was devastated, but Gaida says it strengthened his relationship with his father and two siblings. Then, when he was in Grade 9, his father passed away from cancer only four months after being diagnosed.
The entire school community came together, organizing meals for the family – including casseroles, muffins and fresh produce – that he could take home. "He had so much to deal with," says Ben Swinton, a Grade 12 student at SCA Secondary. "Making meals for him meant it was one less thing he had to worry about. I think by the end of the year there were so many chocolate chip muffins, he eventually got sick of them."
That sense of community is what Gaida is trying to pass on through the Food for Friends initiative, creating a space where students feel supported by their school and peers. That's where The Eagle's Nest comes in – the school's canteen offers healthy meal options, prepared by educational assistant and professional caterer Debbie Higgs and special project students. The Food for Friends program offers coupons for a free lunch to students in need, which they can redeem at the canteen.
"We already have this great resource in place to help students," says Jordie Maxwell, campus pastor at SCA Secondary. "Food for Friends will allow us to use the kitchen to benefit our community. Everyone, regardless of their circumstances, faces hard situations and small acts of kindness can go a long way in supporting them."
Over the past month a donation jar in the canteen has been collecting spare change from students. And on May 24, additional donations from students and families will be gratefully accepted at a schoolwide assembly. Half of the money raised will go toward the school's Food for Friends program and the other half will go towards A Safe Place, a shelter in Strathcona County for abused women and their children.
"I am really proud of what everyone has come together to accomplish," says Gaida. "I hope, in the future, I can come back and see students carrying on the initiative."
Anyone wishing to help the initiative through donations can contact Jordie Maxwell at 780-464-7217 ext. 6736. Donations will be accepted until the end of the school year, on June 28.
Representatives of the media, family and community are invited to join students at the schoolwide assembly:
Event details:
Date: May 24, 2018
Time: 10 a.m. to 11:15 a.m.
Location: Sherwood Park Alliance Church, auditorium, 1011 Clover Bar Rd., Sherwood Park
Strathcona Christian Academy Secondary serves more than 580 students in grades 7 to 12 offering instruction with a Christian perspective. Located in Sherwood Park, the school is one of 42 schools within Elk Island Public Schools. For more information about the school visit www.scasecondary.ca.
–30–
For more information contact:
Jon Elzinga, principal, Strathcona Christian Academy Secondary 780-464-7127
Laura McNabb, director, Communication Services, EIPS 780-417-8204 cell 780-405-4902