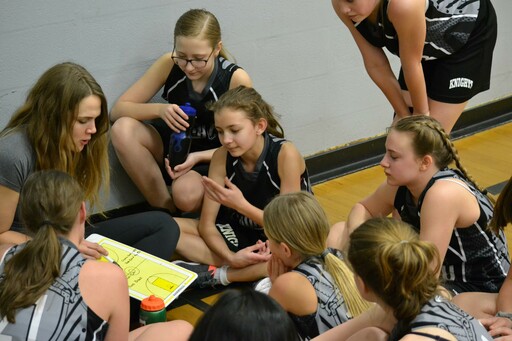 Sherwood Park, AB. — Anyone launching a new career can attest to the steep learning curve and the tremendous amount of preparation required to make a meaningful contribution in the workplace. For Sara Haring, the Athletics Director at Clover Bar Junior High, her first year of teaching is summed up with a single word: "Busy." 
While year one is admittedly hectic, Haring's loving every minute. "Each day is different, and I'm constantly learning—from both colleagues and students," she says. "I've wanted to be a teacher my whole life—to make a difference and pay it forward. Now, to have that privilege, it's surreal."
That enthusiasm is one of the reasons Haring was selected as a nominee for this year's Edwin Parr Teacher Award, an annual program organized by the Alberta School Boards Association (ASBA) recognizing first-year teachers and their pedagogical excellence. Haring stood out for her commitment to education, learning practices, capacity to instill confidence in students and her innate ability to encourage a love of learning. "I feel honoured to be chosen as a nominee," she says. "To be recognized among the many amazing first-year teachers in the Division and the province is humbling, to say the least. I consider myself incredibly fortunate to do what I love to do, each and every day."
Not one to take credit, Haring attributes her success to her colleagues, who she says, are a tremendous resource for her, offering both mentorship, support and advice. In fact, it was her colleagues, at Clover Bar Junior High, who put her name forward for the Edwin Parr Teacher Award. "Every day, she brings enthusiasm and passion and is making a difference in the students' lives," says Jacqui Holmes, the Principal of Clover Bar Junior High. "We're so proud of her. She has this innate ability to engage students. They respect her. They listen to her. Because of that, she's able to deepen their understanding and help them achieve success."
Outside of class, Haring also goes above and beyond. In her first year alone, she helped popularize a monthly schoolwide food drive and pep rally, launched an annual dance competition and took on the role of coach for five school extracurricular sports teams. "Through this year, I've learned how important is it to celebrate the small victories as much as the big ones," says Haring. "It helps build resilience and confidence. That's what this is all about. As a teacher, I want to help every student develop motor competency, confidence and motivation to be active in their everyday life and reap the benefit of a healthy lifestyle—now and long-term."
School boards across the province nominate one candidate for the Edwin Parr Teacher Award each year. Nominees are honoured at an annual ASBA zone banquet in May. The association then chooses six first-year teachers from across the province and recognizes them at an ASBA general meeting. Haring, who is the 2019 nominee from Elk Island Public Schools (EIPS), is among many exceptional first-year teachers working within the Division demonstrating exemplary practices in the areas of instructional strategies, student assessment and evaluation, and learning styles.
Congratulations to Sara Haring for a job well done and all the first-year teachers working within EIPS.

EIPS is one of Alberta's largest school divisions, serving approximately 17,150 students in 43 schools. We are proud to be an integral part of our communities, including Sherwood Park, Fort Saskatchewan, Vegreville, Strathcona and Lamont counties, and the western portion of the County of Minburn.
–30–
For more information contact:
Laura McNabb, Director, Communication Services, EIPS 780-417-8204 cell 780-405-4902