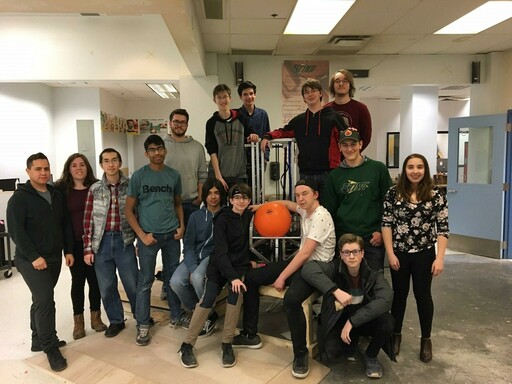 Sherwood Park, AB. — Students from Fort Saskatchewan High are competing in the 2019 For Inspiration and Recognition of Science and Technology (FIRST) Robotics Competition in Calgary this week—an international competition that includes teams from all over North America, Turkey, China and Australia.
Seventeen talented students on Fort Saskatchewan High's Sting Robotics team are teaming up with other robotics classes from around the world to test their handcrafted robots in a series of skill challenges. "The FIRST Robotics Challenge is one of the hardest challenges we have faced as a team," says Colby Mask, a Grade 11 student and member of Sting Robotics. "It's challenging us to design a multifunctional robot within certain size and weight limits. Competing in Calgary gives us an opportunity to connect with teams from all over the world and see the different solutions they've come up with."

Following this year's theme, Destination: Deep Space, the competition tasks students with designing and building a robot that can meet the simulated challenges of collecting resources from deep space. The robots will need to navigate simulated terrain and autonomously respond to different obstacles. To prepare, the Sting Robotics team had exactly six weeks to design and create a robot capable of meeting the competition's specifications. Students had to build the robot's frame, rig up mechanical components such as wheels and arms, and program the robot's autonomous responses to different situations.
"Our team has invested hundreds of hours and made a fantastic commitment to expanding their knowledge in numerous STEM specialties," says Rick Kobylnyk, Fort Saskatchewan High's robotics teacher. "Through the design, engineering, building and testing phase, the students have shown true dedication and ingenuity in turning an idea into a functional robot. We were also privileged to have the opportunity to learn from our former students, mentors from DOW Chemical Canada and other FIRST teams—they've all contributed to making this season a success."
Awards are given to the top performing teams who score the most points in the competition's challenges. The winners then compete in the world finals in Houston in April.
Good luck to Sting Robotics!


Fort Saskatchewan High serves approximately 400 students in grades 10 to 12 and is one of 43 schools within Elk Island Public Schools. More information about the school is available at www.forthigh.ca.
–30–
For more information contact:
Rick Kobylnyk, Teacher, Fort Saskatchewan High, 780-998-3751
Laura McNabb, Director, Communication Services, EIPS 780-417-8204 cell 780-405-4902