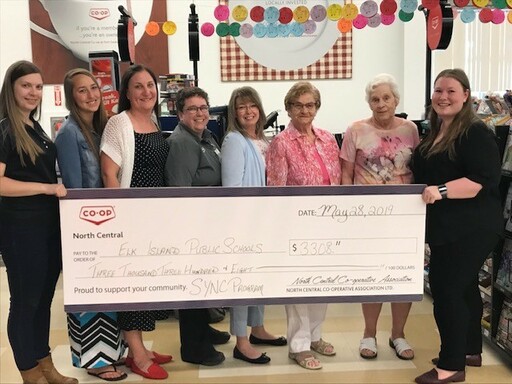 Fort Saskatchewan, AB. — As a Division, Elk Island Public Schools (EIPS) is committed to promoting growth and success for all students. While essential learning takes place in the school setting every day, it's also important students become engaged and empathetic members of their community.
The Seniors and Youth Networking Communities (SYNC) program, administered from SouthPointe School, is designed to help build relationships between students and seniors. Monthly, students in grades 5 and 6 from SouthPointe School, James Mowat Elementary and Fort Saskatchewan Christian travel to Dr. Turner Lodge and Southfort Bend Gardens where they talk, learn from and share experiences with residents.
"SYNC means the world to us at Southfort Bend," says Tammy Franklin, the Assistant Manager at Southfort Bend Gardens. "It's such a unique and special opportunity for both the students and the seniors. The laughter is contagious, and the relationships forged are meaningful and inspiring. We're grateful to the organizers and the community for supporting this wonderful program."
In recognition of the importance of the program in Fort Saskatchewan, North Central Co-op held its second annual SYNC fundraiser at its Station Square location in May. An enthusiastic response from the community meant the store was able to raise $3,308.11. The money raised will cover SYNC's transportation costs for its three schools to travel to and from the seniors' residence during the 2019-20 school year.
"North Central Co-op at Station Square is a locally invested and community-minded business," says Patsy Hawryluk, the Store Manager of the Station Square North Central Co-op location. "The SYNC program identifies well with our company values, reaching out beyond the walls of the classroom and engaging youth with seniors, growing our future generations to be community minded."
EIPS is grateful for community partnerships, which enhance educational opportunities and help equip students with skills they need to achieve success in their careers and their lives. On behalf of the SYNC program, the Division thanks North Central Co-op for its ongoing fundraising efforts.
"It's a blessing to be a resident and teacher in Fort Saskatchewan," says Carole Bossert, a teacher at SouthPointe School and the co-ordinator of the SYNC program. "Our seniors and our youth, love the connections the program brings to them. I'm thankful and completely blown away by the generosity of Fort Saskatchewan. These meaningful, face-to-face connections are extremely important to all of our participants and their families."
EIPS is one of Alberta's largest school divisions, serving approximately 17,150 students in 43 schools. We are proud to be an integral part of our communities, including Sherwood Park, Fort Saskatchewan, Vegreville, Strathcona and Lamont counties, and the western portion of the County of Minburn.
–30–
For more information contact:
Carole Bossert, Teacher, SouthPointe School, 780-998-2747
Laura McNabb, Director, Communication Services, EIPS 780-417-8204 cell 780-405-4902