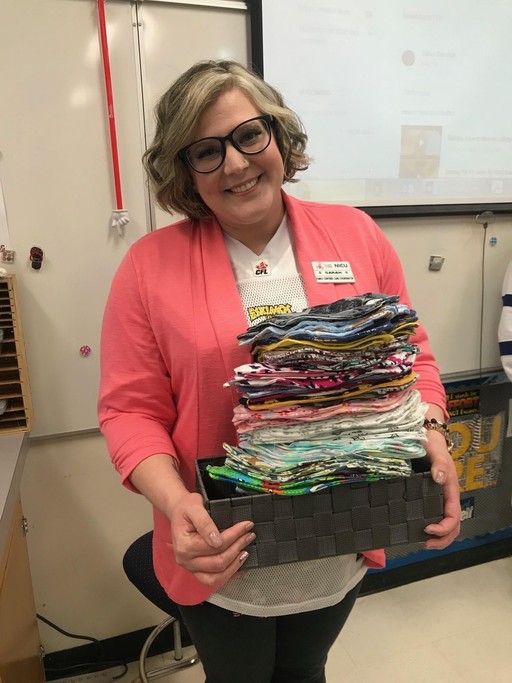 Sherwood Park, AB. — For parents with babies in a neonatal intensive care unit (NICU), the hospital experience is understandably stressful—a situation that intensifies when they can't be with their child around the clock. Thanks to the efforts of the fashion studies students from three Elk Island Public Schools (EIPS) junior highs, local NICU babies are now bonding with their mother, father or caregiver even when they can't physically be together.
Using scraps of soft fabric such as flannel and cotton, fashion studies students from F.R. Haythorne Junior High, Lakeland Ridge and Sherwood Heights Junior High are sewing dozens of small cloth hearts on an ongoing basis. Once complete, they send them to the Stollery Children's Hospital Foundation at part of its Tender Loving Care Cloths initiative. The hearts are then used in the NICUs at both the University of Alberta Hospital and Royal Alexandra Hospital.
Two cloth hearts are given to each family when an infant is admitted to the unit—the parent or caregiver wears one heart against their body, and the other heart is wrapped with the baby. After a few days, the cloths are then exchanged. The heart that smells like the parent or caregiver is used to provide the baby with a sense of physical closeness and comfort when the parent is unable to be in direct contact. Conversely, the scent of the infant can help stimulate lactation for a mother who is storing breast milk for a hospitalized baby.
"The development of any baby is dependent on the sensory experiences provided by the environment and the loving, nurturing relationship with the parents," says Dr. Juzer Tyebkhan, a neonatologist at the Royal Alexandra Hospital. "The heart cloths improve infant development, and increases parental familiarity as the baby comes to recognize the scents."
For Tanus Davidge, the fashion studies teacher at F.R. Haythorne, the chance for students to give back to the community is especially meaningful. "Our students are embracing the opportunity to make a difference, and by contributing to programs such as Tender Loving Care Cloths, they learn first-hand how empathy and compassion can touch the lives of other people."
With more than 150 combined admissions to both of the Stollery's NICUs each month, the small fabric hearts make a big difference. "Having local students in our community involved with this program is special because they're directly impacting families and helping to fill a tangible need," says Sarah Topilko, the co-ordinator of Patient and Family Centred Care at the Stollery Children's Hospital. "Without these students and other volunteers, we wouldn't be able to provide this important support. We're so grateful to everyone who has donated their time and material, and thank them so much!"
Members of the community interested in donating fabric hearts for Tender Loving Care Cloths are encouraged to contact sarah.topilko@ahs.ca.
–30–
For more information contact:
Laura McNabb, director, Communication Services, EIPS 780-417-8204 cell 780-405-4902