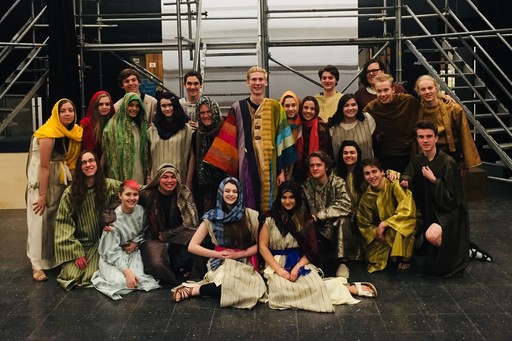 Sherwood Park, AB. — Theatre buffs are sure to be entertained by Salisbury Composite High's presentation of Joseph and the Amazing Technicolor Dreamcoat, Andrew Lloyd Webber's and Tim Rice's beloved classic about the Biblical story of Joseph, his jealous brothers, and a colourful garment and the dreams it inspires, on May 14-16.
Performed by students enrolled in the schools performing arts program, Joseph and the Amazing Techicolor Dreamcoat is an uplifting story that follows young Joseph, Israel's favourite son, on his journey to Egypt after being sold to slavery by his 11 brothers. Despite constant adversity, Joseph perseveres and become the governor of Egypt, second only to the Pharaoh, which sets the scene for when he meets his brothers again in Egypt. Students will also perform many of the musical's classic anthems including Go, Go, Go Joseph, Any Dream Will Do, and Joseph's Coat.
"It's going to be great," says Kyle Braun, a Grade 12 student at Salisbury Composite High who is playing the part of Joseph. "It's a fun, high-energy show with a positive message and style of music everyone can enjoy."
Salisbury's performing arts program offers its students the opportunity to develop their artistic skills, learn about performance and production, share their passion for the theatre and gain a broad spectrum of skills. Currently, 87 students are enrolled in the high school's performing arts program, all of whom are involved in Joseph and the Amazing Techicolor Dreamcoat.
"Our students have worked so hard on this performance and are thrilled to finally be able to share it with the community," says Lianne Lister, a performing arts teacher at Salisbury Community High. "That's what is so great about the theatre program. It encourages students to take risks and step outside their comfort zones. As a result, they develop important life skills around hard work, preparation, commitment, time management and teamwork—all important life skills."
Fuelled by teenage energy, the Salisbury Composite High's production will entertain and delight audience members of all ages while also offering important lessons about family, kindness and following your dreams—sure to be fun for the whole family.
Event details:
Showtimes:   May 14, 7 p.m.
                      May 15, 7 p.m.
                      May 16, 5 p.m. and 8 p.m.
Place:            Festival Place, 100 Festival Way, Sherwood Park, AB.
Cost:             $20. Tickets can be purchased at the Festival Place Box Office.
Salisbury Composite High serves close to 1,000 students in grades 10 to 12 and is one of 42 schools within Elk Island Public Schools. More information about the school is available at www.salcomp.ca. 
–30–
For more information contact:
Lianne Lister, performing arts teacher, Salisbury Composite High, 780-467-8816
Laura McNabb, director, Communication Services, EIPS, 780-417-8204 cell 780-405-4902