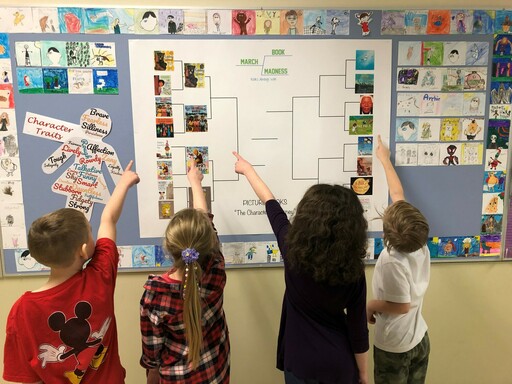 Sherwood Park, AB. — While most people are getting excited about basketball this time of year, students at Lakeland Ridge are focused on a different kind of March Madness, one that pits their favourite books against each other in a literacy showdown. "This is my first year competing in March Book Madness," says Lauren, a Grade 1 student at Lakeland Ridge. "The books are all so different, which is good because I like reading new things."


Over the last month, elementary students have been busy reading a series of selected books and casting votes on their favourites as part of their annual March Book Madness event, a bracket-style tournament where books compete against each other, similar in format to the NCAA March Madness basketball tournament. Students start with 16 books. During each bracket, two go up against each other and are then voted on by each class—majority-rule style. Votes are then tallied schoolwide and whichever book gets the most points moves on to the next round.
"Students always get excited about the competition," says Susan Cooksley, a Grade 1 teacher at Lakeland Ridge. "Each time a book gets eliminated there is genuine excitement and disappointment in the air. That's what we want, to create passionate readers who truly care about books."
To cast a vote, each class has to read both competing books in the bracket and then discuss them at length focusing on compelling characters, plot development and why one book should win over the other. This year's book contenders were: Finding Winnie, Gaston, Not Quite Narwhal, A Big Mooncake For Little Star, Ada's Violin, Drawn Together, Dreamers, I Walk With Vanessa, King For a Day, Let The Children March, Nelson Mandela, Teddy's Favorite Toy, The Day You Begin, The Field, The Very Last Castle, and We Are Grateful: Otsaliheliga. Today, students made their final vote—the winning book was none other than Gaston, a picture book written by Kelly DiPuccio about a puppy learning what it means to be part of a family.
"As teachers, our goal is for our students to see reading as something they want to do, not something they have to do," says Cooksley. "I think that's why initiatives such as March Book Madness are so positive. It exposes students to books and genres they may not have noticed before and engages them as readers."
Lakeland Ridge serves approximately 760 students in kindergarten to Grade 9 and is one of 43 schools within Elk Island Public Schools. More information about the school is available at www.lakelandridge.ca.
–30–
For more information contact:
Laura McNabb, Director, Communication Services, EIPS 780-417-8204 cell 780-405-4902