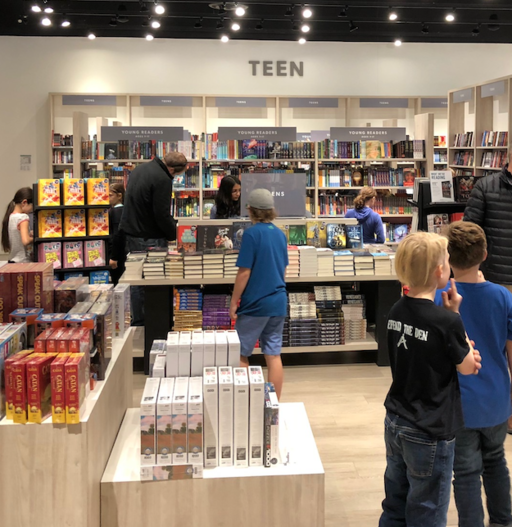 Sherwood Park, AB. —On October 26, Lakeland Ridge received an influx of new books for their grade 4, 5 and 6 classrooms that weren't chosen by the teachers, the school librarian or curriculum requirements. Instead, they were all student picks. "I loved being able to explore different genres from what's in our classroom," says Kali, a Grade 6 student at Lakeland Ridge. "I really enjoyed going to Indigo because it gave me more choices and ideas about the books I could read in the future."
On Friday, students travelled to Indigo, a bookstore in Sherwood Park, and were greeted by friendly store employees who were ready to help students locate their book selections. The purpose of the book-buy was to build the classroom collections for both current and future students to enjoy. Prior to going, teachers prepared students for the fieldtrip by talking about 'good fit' books, assisted with researching different genres, and had book talks to highlight the wide variety of books available to young readers.
"There was a sense of magic when the students walked into the bookstore and saw all the possibilities in front of them," says Melissa Kerr, the Assistant Principal at Lakeland Ridge. "That's what this is all about. Reading leads to more reading, and strengthens literacy skills in all other subject areas.  When students are able to continuously talk about books they love, it becomes a contagious, ongoing process."
In total, 237 books were purchased, ranging from lengthy Harry Potter novels to beautifully illustrated graphic novels—all perfect fits for the classroom and for the students themselves. Student choice is a big focus at Lakeland Ridge, and this book-buy is one of the ways to engage students in reading. "We want to empower students to make their own choices when it comes to reading," says Kerr. "When they're free to choose the books they want to read, they're more likely to fall in love with reading, and more likely to seek out more books after they're finished."
With the bookshelves at Lakeland Ridge now freshly stocked, students have a lot of reading ahead of them. Once they finish their own selections, they'll have up to 30 more books to choose from, and classmates eager to offer recommendations.
Lakeland Ridge serves approximately 760 students in kindergarten to Grade 9 school and is one of 43 schools within Elk Island Public Schools. More information about the school is available at www.lakelandridge.ca.
–30–
For more information contact:
Laura McNabb, Director, Communication Services, EIPS 780-417-8204 cell 780-405-4902