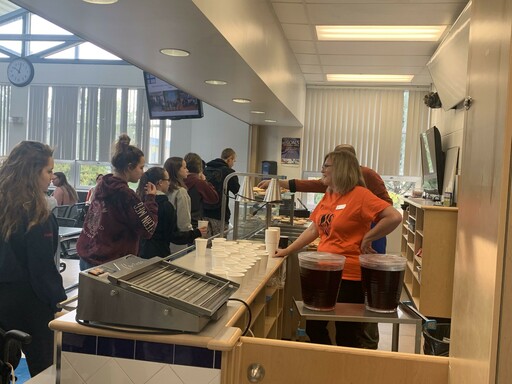 Sherwood Park, AB. —Between getting ready for school, making sure they're at the bus stop on time, and resisting that ever-tempting desire to catch a few extra minutes of sleep, students don't always give breakfast the attention it deserves. But a new partnership between Lamont High and COBS Bread Bakery in Fort Saskatchewan aims to ease that early morning rush by providing a fresh, healthy breakfast to all students at school.
The program was inspired by a recent trip the school's administration took to Finland as part of the Alberta Teachers' Association sponsored Finland-Alberta (FinAL) international education research partnership. "Our partners in Finland explained to us that nutrition is so highly valued in their culture, communities make sure meals are available to students in local schools free of charge," says Amit Mali, principal of Lamont High. "It's a universal understanding there: students can't be expected to learn on empty stomachs."
Upon returning to Canada, Mali recognized many of Lamont High's own students could benefit from a similar community focus on nutrition, but he didn't want to place an extra burden on the teaching staff to organize and run an entirely new program. So, Mali and the school's office staff took the project on themselves and began reaching out to local businesses to promote interest in the project. COBS Bread Bakery was more than happy to answer the call. Once a week, one of Lamont High's office staff stops by COBS to pick up the school's order, and every morning, the office team gathers to serve students during morning class break. "Most students only get to see the office staff when they're in trouble," says Mali. "This program gives us the opportunity to build more positive relationships with students and to see the effect a healthy breakfast is having on them."
The initiative has received a positive response from students and parents, and teachers have noticed better moods among students and increased attention in class. "The breakfast program is a great way to start my morning," says Liam Zabel, a Grade 10 student at Lamont High. "The food is great, and the smiling faces of the staff makes me feel very welcomed and ready to start the day."
 Lamont High serves approximately 300 students in grades 7 to 12 and is one of 43 schools within Elk Island Public Schools. More information about the school is available at www.lamonthigh.ca.
–30–
For more information contact:
Laura McNabb, Director, Communication Services, EIPS 780-417-8204 cell 780-405-4902