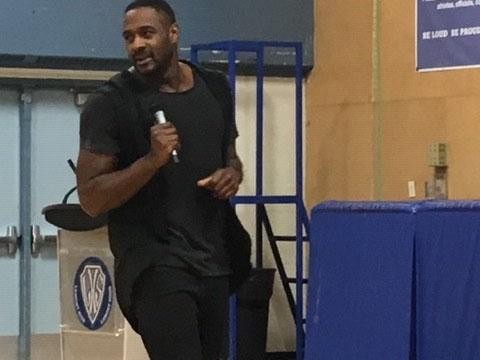 Sherwood Park, AB. —On October 24, students at Lamont High took part in an awkward but important conversation with the help of a special guest. Yesterday afternoon, students were visited by Jesse Lipscombe, local athlete, actor, activist and co-founder of the #MakeItAwkward movement. Jesse spoke to students about how he's dealt with racism in his own life and about the power of having awkward conversations.
The main focus of the #MakeItAwkward movement is to empower others to stamp out prejudice in their own lives. Racism, sexism and homophobia can often be subtle, appearing in jokes and hastily-made comments. When we hear these comments being made by our friends, family members or even ourselves, it's tempting to just let them slide. Jesse encouraged students to not ignore these comments, but to get awkward instead, starting uncomfortable conversations about where this prejudiced speech comes from. "I learned that small things can impact people in big ways," says Sameer Khamis, a Grade 11 student. "We have to be aware of what we say to each other, and consider the impact of our words, rather than the intent."
Jesse told students that by taking a moment to consider their words and actions, no matter how uncomfortable it makes them, they are giving themselves permission to grow. This is where a creative metaphor came in. Jesse explained that in order for a lobster to grow, it needs to leave the security of its shell, becoming vulnerable until it can grow a larger one. "This idea really resonated with the students, and it resonated with me as well," says Penny Smith, Lamont High's Guidance Counsellor. "Our past fears and insecurities are embedded in the shells we wear. They protect us, but they also hold us back. In order to grow, we need to remove our barriers."
Students learned that while it's difficult to have conversations about our differences, they'll be better off for making the effort. "There is power in vulnerability," Jesse told them. "Learn to be like a lobster, and don't limit your ability to grow as a person."
Lamont High serves approximately 300 students in grades 10 to 12 and is one of 43 schools within Elk Island Public Schools. More information about the school is available at www.lamonthigh.ca.
–30–
For more information contact:
Laura McNabb, director, Communication Services, EIPS 780-417-8204 cell 780-405-4902