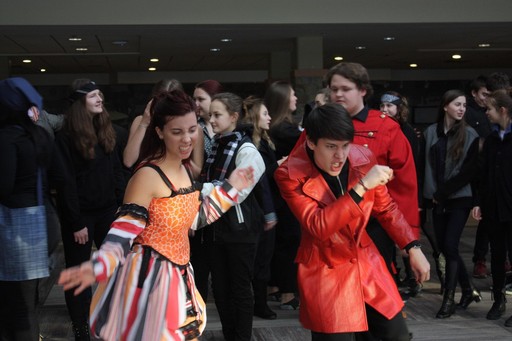 Sherwood Park, AB. — Months of hard work are paying off for students at Strathcona Christian Academy (SCA) Secondary as they get set to present Les Misérables School Edition, an adaption of the highly acclaimed novel and Broadway musical, on February 12 to February 16.
Performed by students from SCA Secondary's fine arts program, Les Misérables School Edition is an uplifting story about sacrifice, strength and resilience. Set in the backdrop of 19th-century France the musical follows the life of Jean Valjean along with a new generation of characters who through their actions illustrate the power of the human spirit. Students are also performing some of the musical's most popular scores such as I Dreamed a Dream, Stars and A Heart Full of Love.
"Our students have worked so hard these last few months working with teachers, parents and the community to put the show together—from character development to set design," says Cynthia Foster, a fine arts teacher at SCA Secondary. "They're thrilled to finally be able to share this cherished musical with the community, who will be inspired by its uplifting message of hope, perseverance and forgiveness."
Launched in 2000, SCA Secondary's fine arts program offers students—in grades 7 through 12—the opportunity to develop both the artistic and technical areas of acting, through practical, hands-on learning. From character development and choreography to movement and voice to set design and stage production, students learn the foundations of acting while also building interpersonal skills and confidence. Currently, close to 40 students are enrolled in the school's fine arts program, all of whom are involved in the upcoming performance of Les Misérables School Edition.
"Fine arts programs are so important for students because they encourage them to take on risks and go outside their comfort zones—skills that extend far beyond the school experience," says Foster. "Now, after months of hard work, students are ready and fuelled with energy. I highly recommend coming—it's sure to be fun for the entire family."
Show times and details:
Dates: February 12-16
Time: 7 p.m. (doors open at 6 p.m.)
Place: Strathcona Christian Academy Auditorium; 1011 Clover Bar Rd.; Sherwood Park
Tickets: Range from $10-$25. Available at https://scafinearts.com/tickets
Strathcona Christian Academy Secondary serves more than 580 students in grades 7 to 12 offering instruction with a Christian perspective. Located in Sherwood Park, the school is one of 42 schools within Elk Island Public Schools. For more information about the school visit www.scasecondary.ca.
–30–
For more information contact:
Cynthia Foster, fine arts teacher, SCA Secondary 780-464-7127
Laura McNabb, director, Communication Services, EIPS, 780-417-8204 cell 780-405-4902