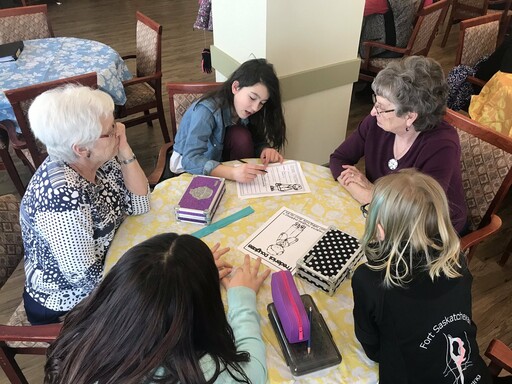 Sherwood Park, AB. — February is Black History Month in Canada, which celebrates the contributions people of African descent have made around the world and the struggles through which they've gone to gain equal standing. Carole Bossert, a teacher at SouthPointe School, has made a commitment to celebrate Black History Month with her students, believing that no matter your cultural background, the stories are impactful, and hold valuable lessons for all.
The first lesson took place outside of the classroom, in a program Bossert runs called Seniors and Youth Networking Communities (SYNC). The program pairs Grade 6 students and seniors together, offering both groups a chance to share stories and create meaningful, face-to-face relationships with members of another generation. During their latest visit, the group used their time together to learn and talk about black history. In fact, the seniors were able to add a personal touch to the material, sharing memories of the way things used to be. "We talked about how it's important to pay attention to what happened a long time ago, because it wasn't right," says Emma Widing, a Grade 6 student in the SYNC program. "We need to make sure this doesn't happen again."
Similarly, in Bossert's Grade 1 classroom, the lessons are also ongoing. Students are learning about many different civil rights heroes such as Viola Desmond and Jackie Robinson— figures who fought against prejudice and discrimination to gain simple, fundamental rights. Desmond, for example, was arrested simply for sitting in an area of a movie theatre reserved for white Canadians. Using their stories as a platform, the class is exploring the history of discrimination in both Canada and the United States. "When I tell these stories to my students, the looks on their faces show they understand what these people went through wasn't right," she says. "They're only in Grade 1 and already have an understanding of how people should be treated. As the leaders of tomorrow, I think it's important to foster their understanding, and allow it to grow."
Inspired by Martin Luther King Jr.'s famous speech, "I Have a Dream," Bossert is working with students to think about how they envision a better world, and ways they can make these dreams a reality. The students are coming up with their own "I Have a Dream" statements and incorporating them into art and literacy projects. "Learning about history can shape us in profound ways," says Bossert. "I want my students to spend some time thinking about the content of their character. I want them to be comfortable reaching out to others in a kind, warm and welcoming way, to be brave, see diversity as beauty and stand up for what is right."

SouthPointe School is a kindergarten to Grade 7 school serving 420 students and is one of 43 schools within Elk Island Public Schools. More information about the school is available at www.southpointeschool.ca.
–30–
For more information contact:
Laura McNabb, Director, Communication Services, EIPS 780-417-8204 cell 780-405-4902
Carole Bossert, Teacher, SouthPointe School, 780-998-2747