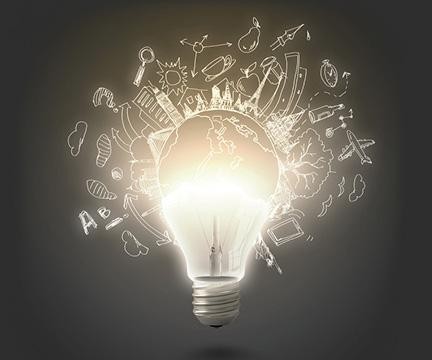 Sherwood Park, AB. — It's no secret having a mentor early in a person's career offers big benefits. But finding that person can sometimes be challenging. That was the goal of this year's Student Skills Portfolio Breakfast—to connect high school students with the local business community.
"I think it's a really valuable experience," says Sara Ansari, a Grade 11 student at Salisbury Composite High who presented at the breakfast. "It gives us the chance to showcase what we're passionate about and gain perspective from the community."
Hosted by the Sherwood Park & District Chamber of Commerce, the annual breakfast offers students the opportunity to showcase their academic, personal and employment achievements with local business people. In the fall, the chamber supplied high school students throughout Elk Island Public Schools (EIPS) and Elk Island Catholic Schools (EICS) with skills portfolio binders. Since then, students have been busy filling and organizing their portfolios to document their skills, abilities, values and interests. Now complete, the students presented their portfolios at the Student Skills Portfolio Breakfast, on May 24.
"These are people who can offer strategic advice, share their contacts and add professional support," says Trina Boymook, the Board Chair of EIPS. "Helping our students develop meaningful relationships with people who can support them in their career can be invaluable in maintaining their long-term success."
This year's keynote speaker was Strathcona County Mayor Rod Frank, who holds degrees in both business and law from the University of Alberta. Frank shared his story, his successes and challenges with the audience, and showed students ways to enhance and build their own networks.
"The chamber is proud to be able to be a part of this project, which has been running for more than 20 years," says Penny Jennings, the president of the Sherwood Park & District Chamber of Commerce. "The Student Skills Portfolio program is a huge success for us because we get to witness students building relationships, and respect, with the local business community."
Since its inception in 1996, the Sherwood Park & District Chamber of Commerce has provided skills portfolios and related materials to approximately 3,000 high school students in EIPS and EICS annually. The 2018 Student Skills Portfolio Breakfast was sponsored by Office of the Mayor Rod Frank.

EIPS is one of Alberta's largest school divisions, serving approximately 17,100 students in 42 schools. We are proud to be an integral part of our communities, including Sherwood Park, Fort Saskatchewan, Vegreville, Strathcona and Lamont counties, and the western portion of the County of Minburn.
–30–
For more information contact:
Joseph Clark, director, Learning Services, EIPS 780-417-8173
Laura McNabb, director, Communication Services, EIPS 780-417-8204 cell 780-405-4902