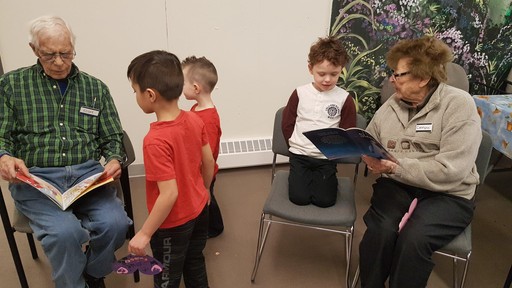 Sherwood Park, AB. — Mills Haven Elementary is finding creative ways to forge bonds between students and seniors thanks to a recent grant from United Commercial Travelers (UCT) Sherwood Park Branch, a non-profit financial services organization supporting community-service efforts in the region.
Recently, UCT gave the school a $3,000 grant to continue its Connecting Generations program. "We're so pleased we can continue the program," says Maxine Holm, a kindergarten teacher at Mills Haven Elementary. "The children enjoy visiting the seniors and it also offers a hands-on way to enhance classroom learning and build meaningful intergenerational relationships."
Once a month, kindergarten classes from Mills Haven Elementary visit with participants in the Sherwood Park Adult Day Program, many of whom have either Alzheimer's disease or dementia. While there, seniors read to the children and together participate in a series of activities such as crafts, games and music. Through those, they share stories and experiences—benefiting both generations.
"As a teacher, it's rewarding because you can see the impact it has on our kindergarten classes," says Holm. "They're learning to expand their understanding of community and what that means beyond just their family and their school."
It's not just the kindergarten classes benefiting, seniors are too: "My grandparents were extremely happy after a visit by the kindergarten children—having that youthful energy around gave them that extra 'pep in their step' for the rest of the day," says Mandy Chapman, the granddaughter of two seniors taking part in Mills Haven's Connecting Generations program. "They also felt important and special by being able to read to the kids. It gave them a sense of purpose, which many days they feel they have lost because of their Alzheimer's disease."

Looking ahead, Mills Haven Elementary plans to add to the program by creating community boxes filled with items that facilitate conversation around activities in the past and in the present.
Mills Haven Elementary is a kindergarten to Grade 6 school serving approximately 480 students in Sherwood Park and one of 42 schools within Elk Island Public Schools. More information about the school is available at www.millshaven.ca.
–30–
For more information contact:
Maxine Holm, teacher, Mills Haven Elementary 780-467-5556
Laura McNabb, director, Communication Services, EIPS 780-417-8204 cell 780-405-4902