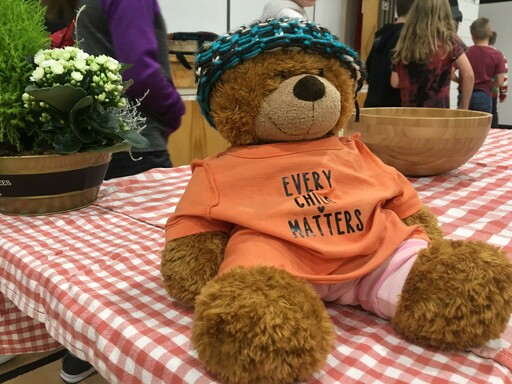 Sherwood Park, AB. — A member of the Mills Haven Elementary community was honoured yesterday with a special naming ceremony to officially welcome him to Treaty 6 territory. Spirit Bear, a small, stuffed bear who first came to the school in September, has been helping students learn about reconciliation and what it means to live on treaty land. Now known as Earth Bear, he's become a full part of the school family—a major milestone in the school's participation in this nation-wide education initiative.
The Spirit Bear program was first started in 2008 by the First Nations Child and Family Caring Society, a national organization dedicated to promoting the rights of Indigenous children across Canada. The bears travel out from the Society's home in British Columbia to schools throughout the country to help schools teach their students about reconciliation. But it's not a one-way relationship; the bears exist in partnership with schools. While the bear teaches students about reconciliation, it becomes the students' responsibility to teach the bear about their treaty area. "Our Spirit Bear teaches us that everyone has a voice," says Shaylie-Rose Hunt, a Grade 6 student at Mills Haven Elementary. "He's taught us about the First Nations peoples and that all people are important."
To qualify for their own Spirit Bear ambassador, Mills Haven had to show their commitment to Indigenous education by participating in a number of activities, including Orange Shirt Day, Have a Heart Day, Project of Heart and Secret Path Week. "Spirit Bear's visit to the school represents an ongoing pledge by Mills Haven to learn more about reconciliation and our Treaty 6 area," says Sarah Choo, grade six teacher and First Nations, Métis and Inuit Lead at Mills Haven Elementary. "Now that our Spirit Bear has been working with students for three months as a sidekick to Elder Wilson, we felt he was ready to get his name."
Spirit Bear's new name, Earth Bear, was chosen by Elder Wilson from a long list of student suggestions. At the naming ceremony, he told students the name represents the importance of learning to respect the Earth and everything on it. Following the naming, the school honoured the Indigenous peoples of the West Coast, where Spirit Bears originate, and participated in a drumming ceremony led by Elder Wilson, fully welcoming Earth Bear into the school family.
The school isn't quite done with their Spirit Bear responsibilities though. In addition to continuing to learn about both reconciliation and Treaty 6 lands, the school must send a new Spirit Bear to another school in the country as a way to ensure the program continues to grow and the teachings of the Spirit Bears reach as many ears as possible.

To learn more about Earth Bear's journey at Mills Haven, you can follow him on Twitter @BearMHV.
EIPS is one of Alberta's largest school divisions, serving approximately 17,400 students in 43 schools. We are proud to be an integral part of our communities, including Sherwood Park, Fort Saskatchewan, Vegreville, Strathcona and Lamont counties, and the western portion of the County of Minburn.
–30–
For more information contact:
Laura McNabb, Director, Communication Services, EIPS 780-417-8204 cell 780-405-4902