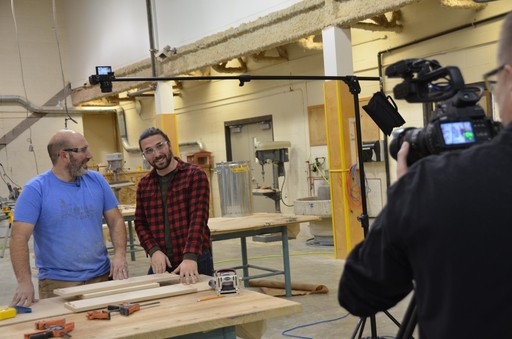 Sherwood Park, AB. — Equipping students with the skills and knowledge needed to safely design and build projects using construction instruments and machines can sometimes be a challenge. So, when an opportunity comes along that has students genuinely excited to explore and participate the results can be impressive. That's exactly what's happening at senior high schools throughout Elk Island Public Schools (EIPS) thanks to a series of new instructional videos, created and produced by the Division. 
In 2016, EIPS received a $20,000 grant from Occupational Health and Safety to help fund a series of safety videos for the Division's Career and Technology Studies (CTS) construction and fabrication programs—aimed at guiding students through the setup and basic operation of various construction and welding equipment. Fast forward 18 months, the videos are now complete and include a library of 80 instructional videos highlighting step-by-step directions on machine operations and safety procedures—tailored to a senior high audience.
"One of our biggest challenges is finding ways to make up content missed because of a student absence," says Steven Woodard, a construction and technologies teacher at Bev Facey Community High. "It's content a student needs from a safety perspective before moving on to equipment use. These videos act as a way to supplement instruction. The student can review what was missed by watching and then demonstrate the skills to the teachers when they are back in class."
In addition to safety and operational use, the videos also feature how-to instructions on building course-related projects from basic tables and boxes to more elaborate projects such as furniture and wooden watercraft. Videos are accessed by students either by scanning a QR code with a mobile device or through Google Classroom. "The videos allow us to keep moving forward if the teacher is really busy," says Steven Blackadder, a Grade 12 student at Vegreville Composite High. "I can also work more independently because it's easy to go back and review any process."
Schools are already seeing impressive results. Since introducing the videos in January, course content is being covered faster, freeing up time to add projects to the program outline. Now, at the end of the course, students can choose an additional project of their choice, ranging from an electric violin to a 16-foot hay wagon. That's a huge advantage for students—they're being provided with more opportunities to develop the skills and knowledge needed to meet current industry demand. "That's what it's all about, empowering students to learn more and moving them forward," says Woodard. "They're getting hands-on learning experiences, additional safety training and, as a result, are assembling more high-quality products in a faster timeframe—that's an attractive quality for employers."
In total, more than 400 students in grades 10 to 12, are using the videos in the CTS construction and fabrication programs at Bev Facey Community High, Strathcona Christian Academy Secondary and Vegreville Composite High. The Division plans to also grow its library as new equipment and projects are added. A special thanks to Occupational Health and Safety for funding the project.
–30–
For more information contact:
Steven Woodard, teacher, Bev Facey Community High 780-467-0044
Laura McNabb, director, Communication Services, EIPS 780-417-8204 cell 780-405-4902