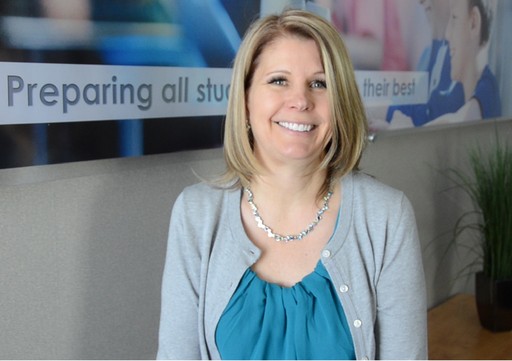 Sherwood Park, AB. — Building a new school from the ground up is a career highlight for Kaye Schindeler, the principal of Davidson Creek Elementary. From interviewing teachers to picking furniture to organizing the school's programs and services, every detail is creating an environment that supports student-centred learning.
The importance of student-centred spaces is something she learned at an early age. Both of her parents were educators—her mother a teacher at Mills Haven Elementary and her father a respected principal and Associate Superintendent in the Sherwood Park area. "I always admired my parents' work ethic and the way they cared so deeply about their students," she says. "I think, because of them, I wanted to be a teacher too. I remember as a little girl turning my playhouse into a school where I could teach the neighbourhood kids. And, that desire never waned."
Since joining Elk Island Public Schools (EIPS) in 1988, she's worked at a handful of schools as both a teacher and principal. Now moving to Davidson Creek Elementary, she plans to use all of the knowledge she's gained to create the best possible experience at the new school, which opens to students on September 4. "The school motto is: 'A Place Where We Belong,'" she says. "I want every child who attends to feel safe, cared for and that they are in a place where they can truly excel. And, as a school community we have to encourage students to be accepting of each other and find commonalities to bring us all together."
A focus on collaboration is evident in the floor plan of the new building, which includes a learning commons, breakout rooms and an outdoor plaza where students can connect. Other features include floor-to-ceiling windows, a music room, a large gymnasium and an environmentally conscious heating and cooling system.
"I can't wait to watch the look on students' faces as they see their new school for the first time," she says. "Students are the heart of a school, so their happiness is what I consider success. My hope is we have created a space where students can learn and play together in their own neighbourhood."
Davidson Creek Elementary is a kindergarten to Grade 6 school located in Sherwood Park with a student capacity of 600. It's one of 43 schools within Elk Island Public Schools and opens to the public on September 4, 2018. More information about the school is available at www.davidsoncreekelementary.ca.
PHOTO CAPTION:
Kaye Schindeler, the first principal of the new K-6 school, Davidson Creek Elementary, located in Sherwood Park.
–30–
Related information:
Construction updates
Frequently asked questions: Davidson Creek Elementary
School website
For more information contact:
Kaye Schindeler, Principal, Davidson Creek Elementary, 780-417-8135
Laura McNabb, Director, Communication Services, EIPS 780-417-8204 cell 780-405-4902