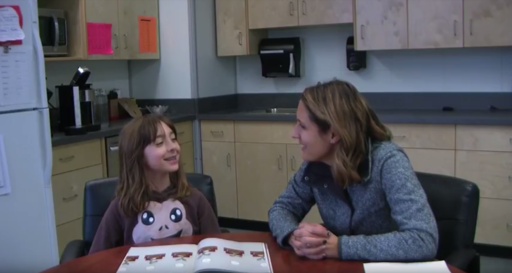 Sherwood Park, AB. — If parent involvement is the number one predictor of early learning success, how do schools support families in becoming literacy coaches? That's a question Westboro Elementary is tackling through its newly launched Parent Literacy Toolkit—a collection of resources and strategies individuals can use to engage their child's literacy development. The goal: To help parents be reading role models and encourage a lifelong love of reading.
"Every day, we want our parents reading with their child—a task that can sometimes be challenging," says Mike Lastiwka, the principal of Westboro Elementary. "It's hard for some parents because they aren't aware of the strategies we're teaching in the classroom to support beginning readers. What the toolkit offers are skills parents can use to incorporate reading into their daily routine."
Developed by Westboro Elementary School Council, the Parent Literacy Toolkit includes tips, best practices, activities and a video program families can use to engage their child's literacy development. Particularly impressive is the for-parents, by-parents approach. "We choose strategies parents can use when sitting down and reading with their children," says Jacquie Surgenor, the chair of Westboro Elementary School Council. "These are the same strategies students are learning in school—such as using pictures for word clues, to predict what's going to take place and to relate to other content. In so doing, it makes learning-to-read easier for both parents and children. It's our way to help support academic achievement in schools."
Over the course of the year, parent volunteers will continue to add and develop the toolkit by introducing new strategies and resources families can test out. Upcoming topics include skipping unknown words, breaking words into chunks, reading punctuation and more. "That parent involvement is so important," says Tamara Martin Spady, a literacy consultant with Elk Island Public Schools. "It provides an extra relationship outside the classroom which helps put things in context and develops habits to encourage a lifelong love of reading."
The Parent Literacy Toolkit is available by visiting Westboro Elementary's school website. It's also being promoted on social media channels using the hashtag #WBOReads.
PHOTO CAPTION INFORMATION: Jacquie Surgenor and her daughter use strategies from Detective Dan, who's always on the lookout for picture cues to help him figure out words.
Westboro Elementary serves approximately 349 students in kindergarten to Grade 6, with alternative and system programing in LOGOS, STEPS and PLACE. Located in Sherwood Park, it's one of 42 schools within Elk Island Public Schools. More information about the school is available at www.westboroelementary.ca.
–30–
For more information contact:
Mike Lastiwka, principal, Westboro Elementary, 780-467-7751
Laura McNabb, director, Communication Services, EIPS 780-417-8204 cell 780-405-4902