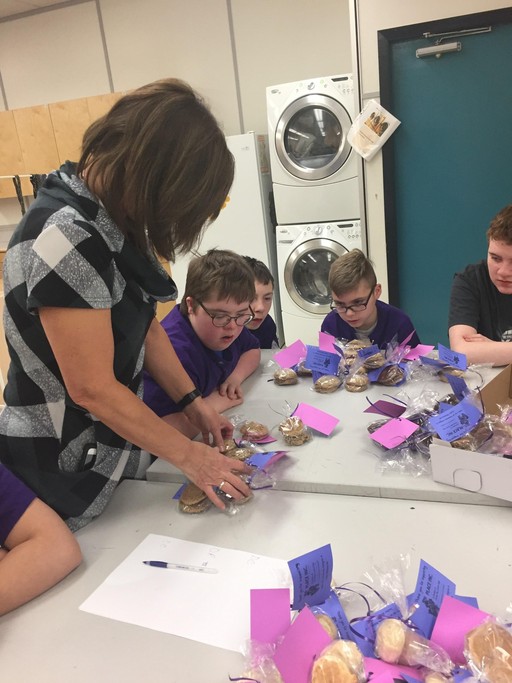 Sherwood Park, AB. — Media, families and community members are invited to join students from Clover Bar Junior High as they launch the first student-led PLACE Inc. Bakery.
Earlier this year, students in the school's Practical Learning and Community Education (PLACE) program approached Scotiabank with a business plan to open a pop-up bakery in all three of its Sherwood Park branches. The goal is twofold: provide a hands-on learning experience to students and to raise funds for the school's PLACE program. After hearing the student presentation, bank officials were immediately impressed. As a result, they not only approved the venture, they also offered a way to grow it.
"Scotiabank is matching all proceeds earned during the sale," says Lindsay Jones, the PLACE teacher at Clover Bar Junior High. "They saw it as both a viable venture and an opportunity to build a community partnership. All our students were thrilled to learn it was approved and to have the chance to showcase their skills and build a community partnership with professionals."
Clover Bar Junior High's PLACE program is designed to meet the needs of students with moderate cognitive disabilities. The program aims at building communication, literacy, numeracy and vocational skills in the classroom and the community. Part of the PLACE program includes a classroom-based business called PLACE Inc., which specializes in baking. The business helps students apply the knowledge they learn in academic areas to work-related tasks. Students are responsible for the communication, planning, receipt making, payment collection, grocery ordering, baking and decorating.
"Our students can't wait for opening day," says Jones. "They know exactly what they are going to sell and are now busy testing and perfecting all the menu items—all of which are absolutely delicious."
The PLACE Inc. pop-up bakery opens for four days in all three of Scotiabank's Sherwood Park branches on January 25-26 and February 1-2. Some of the tasty menu treats patrons can order include cookies, cakes and cupcakes—all made by PLACE students. Proceeds from the bakery are going towards enhancing the Clover Bar Junior High's PLACE program.


PLACE Inc. Bakery Details:
Date: January 25-26 and February 1-2
Time: 10 a.m. to 2 p.m.
Locations: Scotiabank; 230 – 222 Baseline Rd.; Sherwood Park
               Scotiabank; 10 – 665 Baseline Rd.; Sherwood Park
               Scotiabank; 993 Fir St.; Sherwood Park
Clover Bar Junior High serves approximately 400 students in grades 7 through 9 and is one of 42 schools within Elk Island Public Schools. More information about the school is available at www.cloverbar.ca.
–30–
For more information contact:
Lindsay Jones, PLACE teacher, Clover Bar Junior High 780-467-2295
Laura McNabb, director, Communication Services, EIPS 780-417-8204 cell 780-405-4902