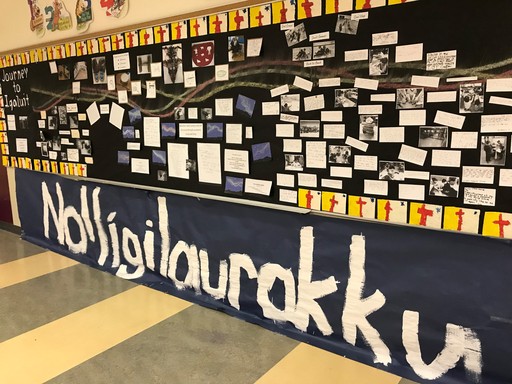 Sherwood Park, AB. — What started as an introductory music lesson has morphed into a powerful school project that's helping students at Lakeland Ridge find their voice. And, thanks to their debut music video, they're now spreading their message to a larger audience. "I'm so excited about the project," says Nathan, a Grade 2 student at Lakeland Ridge. "It's the best thing ever. I got to pick what I wanted to share with others about Iqaluit and the people who live there."
Earlier this year, Grade 2 students at Lakeland Ridge were introduced to throat singing—a longstanding Inuit a cappella tradition. They learned about its various techniques, such as the rhythmic patterns and how to manipulate the vocal cords, and then listened to several recordings to get a feel for the style and sounds. One of those songs was, Northern Lights, by the Iqaluit-based band The Jerry Cans, which combines traditional Inuit throat singing, or katajjaq, with a mix of folk, rock and pop music. Students were immediately inspired. As a result, the teachers suggested using the song to make a music video to showcase what they've learned about Indigenous culture, perspective and history—with a focus on the Iqaluit region.
"They were thrilled, and from there the project just evolved on its own," says Jennifer Rice, the First Nations, Métis and Inuit lead at Lakeland Ridge. "Students were broken into interest groups and collaboratively researched Iqaluit geography and Inuit culture and traditions. Somehow, it evolved into a project that fully encompassed all curriculum areas, from language arts to science."
Now complete, the students have just released the video online. It starts with a brief monologue explaining how the video was inspired and the work that went into preparing it—everything from the set design to the costumes to the choreography was student driven. It then segues into the song, Northern light, performed by all the Grade 2 students and captures both Iqaluit and Inuit in a meaningful way. Most powerful is when the students begin throat singing, which gives voice to the historic struggles Inuit communities have had to face.
"They've truly found their voices," Kali Beecroft, one of the Grade 2 teachers at Lakeland Ridge. "That was the whole point. We wanted to create a hands-on learning experience to deepen their knowledge and facilitate understanding around Indigenous culture, perspectives and history. The bonus: we can share it with others to build capacity and use it as a reminder of how we came together as a group to learn something that's so important."
Looking ahead, the school plans to share the video with other schools throughout Elk Island Public Schools in the hopes of inspiring future projects. The school also plans to share the video with The Jerry Cans themselves. "I hope they like it," says Nathan. "We learned a lot and I'd loved to do other projects like this one."
View the music video:
The Northern Lights: Lakeland Ridge Grade 2 Students
Lakeland Ridge is a kindergarten to Grade 9 school serving approximately 740 students and is one of 42 schools within Elk Island Public Schools. More information about the school is available at www.lakelandridge.ca.
–30–
For more information contact:
Ryan Marshall, principal, Lakeland Ridge, 780-416-9018
Laura McNabb, director, Communication Services, EIPS 780-417-8204 cell 780-405-4902