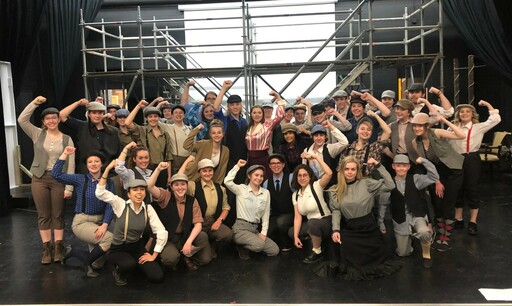 Sherwood Park, AB. — Salisbury Composite High is proud to present Disney's Newsies, an adaptation of the cult-classic musical film, on May 13-16 at 7 p.m.
Performed by students enrolled in the school's performing arts program, Disney's Newsies takes audiences to a world of corporate exploitation in turn-of-the century New York City. The story follows Jack Kelly, a young, charismatic newsboy and leader of a band of teenage newspaper vendors. When the titans of publishing raise distribution prices at the newsboys' expense, Jack rallies his fellow newsies from across the city to strike against the unfair work conditions. Students will also perform many of the classic songs from the film including Carrying the Banner, Seize the Day and Santa Fe.
Salisbury's performing arts program offers its students the opportunity to develop their artistic skills, learn about performance and production, share their passion for the theatre and gain a broad spectrum of skills. Currently, 175 students are enrolled in the high school's performing arts program, 95 of whom are involved in Disney's Newsies.
"We're thrilled to finally be sharing this performance with the community," says Lianne Lister Frank, one of the performing arts teachers at Salisbury Composite High. "Our theatre program challenges students to take on new tasks and step outside their comfort zones in the pursuit of a truly excellent production. The skills they've developed will serve them well, no matter where life takes them."
Salisbury's production of Newsies is packed with non-stop thrills and a timeless message of standing up for what is right—perfect for the whole family.
Show times and details:
Dates: May 13-16
Time: 7 p.m. (doors open at 6:30 p.m.)
Place: Festival Place; 100 Festival Way; Sherwood Park
Cost: $20. Tickets can be purchased at Salisbury General Office or the Festival Place Box Office
Salisbury Composite High serves close to 1,200 students in grades 10 to 12 and is one of 43 schools within Elk Island Public Schools. More information about the school is available at www.salcomp.ca.
–30–
For more information contact:
Lianne Lister Frank, Performing Arts Teacher, Salisbury Composite High, 780-467-8816
Laura McNabb, Director, Communication Services, EIPS 780-417-8204 cell 780-405-4902