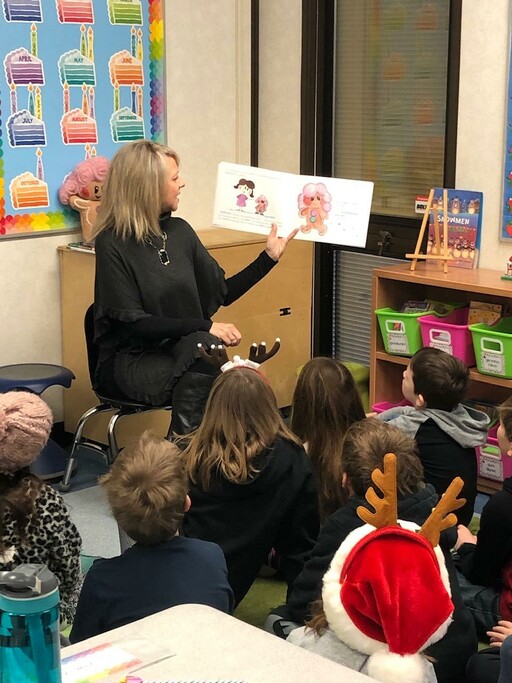 Sherwood Park, AB. — February 1 is World Read Aloud Day, a global celebration of reading and literacy that raises awareness about the importance of literacy development for all people. Throughout the day, teachers, students and families all over the world are hosting read aloud sessions, sharing stories and advocating for literacy. While it's easy to think of literacy development as something that happens at school, in truth, true mastery of literacy begins at home.
Tamara Martin-Spady, a literacy consultant with Elk Island Public Schools, is a long-time believer in the power of reading at home, citing it as one of the most important activities families can engage in during the early stages of literacy acquisition. "When students are encouraged to spend time reading at home, the skills and habits they develop transfer over to their schoolwork, and help them in all aspects of their education," she says. "Whether reading aloud or silently, the easiest way to help them succeed in school is to foster a love for reading."
The concept of at-home-literacy is simple enough: The more time children spend reading and writing, the better their literacy skills become. The tricky part is to avoid turning it into a chore. Providing children with books that are appropriate to their reading level and interests is an easy way to avoid this attitude. "Teachers can be a great resource in recommending appropriate books," says Martin-Spady, "but simply asking children questions about what they're reading can tell you a lot about whether they're connecting with the material or not."
The other half of literacy is, of course, developing writing skills. Martin-Spady, a self-identified visual learner, uses illustration to help children connect words and ideas. Even if they're not ready to write yet, illustration helps children practice putting a pencil to paper to represent concepts visually. "By asking them to draw something simple, such as an animal, they're learning to connect words and ideas," she says "As their skills improve, families can introducing some more challenging tasks, such as  sounding out the letters in the names of animals they draw, or mixing pictures and words to tell a story."

Literacy acquisition can be slow, but Martin-Spady encourages families to commit to the process. "Trying is more important than getting things right immediately," she says. "That's what Read Aloud Day is all about. Whether it's reading together as a family or independent reading and writing, all help to build vocabulary and create a familiarity with the core concepts of literacy that children will use as their skills grow."
EIPS is one of Alberta's largest school divisions, serving approximately 17,150 students in 43 schools. We are proud to be an integral part of our communities, including Sherwood Park, Fort Saskatchewan, Vegreville, Strathcona and Lamont counties, and the western portion of the County of Minburn.
–30–
For more information contact:
Laura McNabb, Director, Communication Services, EIPS 780-417-8204 cell 780-405-4902