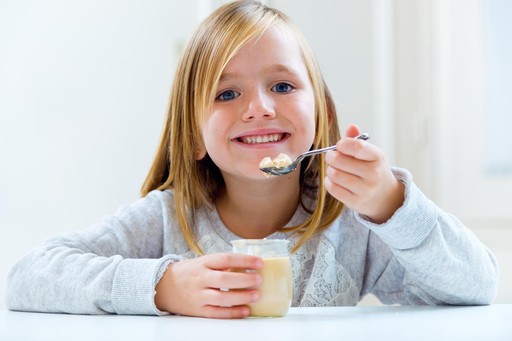 Sherwood Park, AB. — Students from Vegreville Composite High are putting healthy on the menu. On October 12, they're taking on the role of nutrition coaches to A.L. Horton Elementary's Grade 1 class. "I can't wait to have them here," says Nicholas McLean, a Grade 8 student from Vegreville Composite High. "A lot of kids are picky eaters and don't like trying new food. We're going to give them a chance to try new foods that are both nutritious and tasty."
Students enrolled in Vegreville Composite High's Grade 8 culinary arts course will spend the morning mentoring students from A.L. Horton Elementary and teaching them about eating well. Grade 1's will first get a nutritional lesson focused on healthy eating, the Alberta Nutrition Guidelines for Children and Youth (ANGCY) and ways to make healthy choices. Then, students will pair up for a hands-on cooking lesson to learn how to make nutritious and delicious snacks at home—for themselves and their family.
"They'll gain a better understanding of nutrition, health and wellness," says Deanna Miller, the culinary arts teacher at Vegreville Composite High. "Even for students who already understand proper nutrition, this will help reinforce some of what they already know. What we want, is to continually find ways to help build their capacity for lifelong healthy eating and living."
The visit is part of the launch of Elk Island Public Schools' (EIPS) newest administrative procedure, AP 164, Nutrition. The new AP is a Division-wide standard for food and beverages served on EIPS school property—in cafeterias, canteens and vending machines; for hot-lunch programming; during fundraising activities; and at school-based parties and events. Following guidelines laid out in the ANGCY, develop specifically for schools and child care facilities to help promote healthy food choices and eating habits, the AP encourages all EIPS schools to strive to serve foods from the Choose Most Often category whenever possible and Choose Sometimes foods when Choose Most Often options aren't available. It also encourages schools to limit the sale of foods from the Choose Least Often category. The AP doesn't apply to lunches or snacks that are brought to school from home.
"Research indicates students who have a nutritious diet have more energy, are better able to focus in class, and as a result, are more ready to learn," says Sandra Stoddard, the associate superintendent at EIPS. "The intent of the AP is to ensure we're offering our students healthy places to learn, providing them with consistent messaging that complements what's being taught in the classroom, and creating supportive school environments for good nutrition and lifelong well-being."
AP 164 officially launches on October 12. Overall, the AP is part of a broader effort to develop healthier learning environments and improve student achievement.
Members of the media are invited to join students from Vegreville Composite High and A.L. Horton Elementary during the cooking lesson to learn more about AP 164.
Event Details:
Date:               Thursday, October 12
Time:               9 a.m. to 9:50 a.m.
Location:         Vegreville Composite High; 6426 55 Ave., Vegreville, AB.
Photo Ops:      Students cooking, students working together, healthy snacks.
Elk Island Public Schools is one of Alberta's largest school divisions, serving approximately 17,100 students in 42 schools. We are proud to be an integral part of our communities, including Sherwood Park, Fort Saskatchewan, Vegreville, Strathcona and Lamont counties, and the western portion of the County of Minburn.
–30–
For more information contact:
Laura McNabb, director, Communication Services, EIPS 780-417-8204 cell 780-405-4902