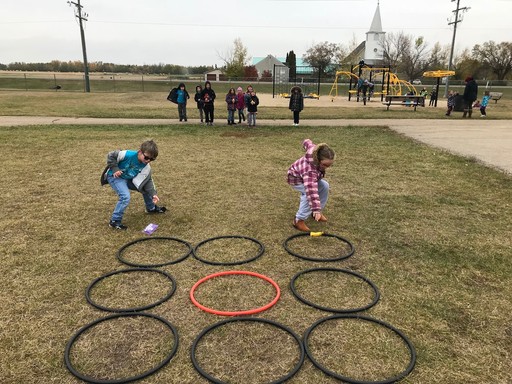 Sherwood Park, AB. —Students at Bruderheim School are enjoying an innovative take on recess. Throughout the day, students have four, 15-minute recess breaks and no more than an hour of instructional time in between. The change is based on a Finnish style of learning with the goal of maximizing student focus in the classroom. "It's fun because you get to play and learn new games," says Hunter, a Grade 2 student at Bruderheim. "And, when I'm back in class I still feel happy."
For the last few years, Bruderheim School has made student wellness and self-regulation one of its key focus area. Students are taught to monitor their own emotions and attention spans by telling teachers when they lose focus or need to recharge. Building on this practice, Paul McKay, the Principal of Bruderheim School, decided to push the wellness initiative a little further. "Research shows students benefit from getting up at regular intervals and elevating their heart rates," he says. "It improves their ability to remain focused while in class, and makes them more receptive to information."
Each day, students receive an hour of instruction in the morning, followed by something called an instructional recess. The break is somewhere between a gym class and a traditional recess, where teachers lead their classes in wellness games and activities. The students go back to class for an hour of classroom instruction. The remaining three recess breaks don't have direct involvement from teachers, but even so, students often carry on playing the skill-building games that were introduced earlier in the day
Already, McKay and his staff have noticed positive changes among their students. Behavioural problems have dropped, teachers report more focus and engagement in the classroom and students themselves are making fewer requests to step out to refocus their thoughts. While more adjustments are needed before the cold winter months hit, with teachers and students both reporting high levels of satisfaction, the new recess schedule looks like it's here to stay.
"My best measure of the success so far is that we have a happy and healthy student body," says McKay. "We've worked hard to give students what they need to succeed, and to take away all the excuses they might have for not participating fully in class."
Bruderheim School serves approximately 130 students in kindergarten to Grade 6 and is one of 43 schools within Elk Island Public Schools. More information about the school is available at www.bruderheimschool.ca.
–30–
For more information contact:
Laura McNabb, Director, Communication Services, EIPS 780-417-8204 cell 780-405-4902