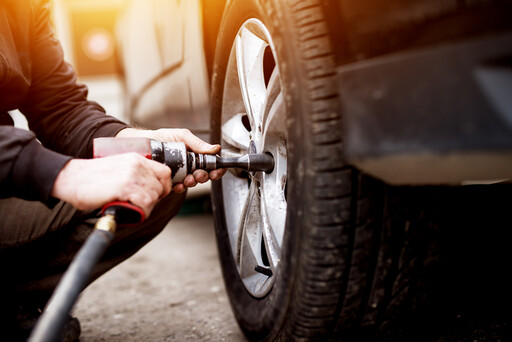 Sherwood Park, AB. — Media, families and community members are invited to join students from Salisbury Composite High to highlight a unique partnership that's helping students get a head start—taking place on September 17.
The school has joined forces with Sherwood Park-based Kal Tire to help advance programming for students pursuing careers in the auto-service industry. The partnership allows Salisbury Composite High to purchase tires, wheels and related products at a competitive rate. With the discounted pricing, students are then able to offer a variety of auto services to the general public, at cost. As a result, students are going beyond the basics, gaining real-life industry skills, valuable experience and diploma credits all at the same time.
"We're mirroring what's going on in the industry, in terms of the services we're providing—something we couldn't do without Kal Tire's support," says Kevin Husky, the auto instructor at Salisbury Composite High. "The goal, of course, is to prepare students for the world of work and the partnership is helping us achieve this. In fact, most of the students, by the time they graduate, have the credits and skill set needed for their first-year apprenticeship accreditation. That's a huge advantage because they have the skills and experience needed to meet current industry demands."
Since partnering, the school has expanded its program to include all the services a first-year apprentice is responsible for—tire changeovers, vehicle maintenance and inspection, brake service, wheel alignments, and steering and suspension service. The number of students at the senior level taking the program has also increased by 35 per cent to 100 students annually—all of whom help to service close to 50 vehicles each semester. Also impressive is the number of female students now enrolled in the course, which has more than doubled.
"That's what this is all about," says Travis McNeill, Owner and President of Kal Tire on Chippewa Road. "We have to find ways to enhance the industry's sustainability. One of the ways we do that is by ensuring a healthy number of students, with a desire to pursue a career in the area, get the education they need to advance. That means familiarizing them with emerging trends in the auto-service sector before they even leave school. So, that's what we're trying to accomplish through this partnership."
Event Details:
Date: Sept. 17, 2019
Time: 10:30 a.m. to 11 a.m.
Location: Salisbury Composite High; 20 Festival Way, Sherwood Park
Speakers: Brandon Salyzyn, the Assistant Principal at Salisbury Composite High; Travis McNeill, Owner and President of Kal Tire; and auto-service technician students attending Salisbury Composite High.
Photo Op: Instructors; students; representatives from EIPS, Kal Tire; and a students demonstration.
NOTE: Principals have the responsibility to limit media coverage only to students approved for interviews. Reporters attending the event are requested to receive permission from a school EIPS representative before interviewing or photographing students. Thank you for your co-operation, and for joining us.
–30–
For more information contact:
Laura McNabb, Director, Communication Services, EIPS 780-417-8204 cell 780-405-4902