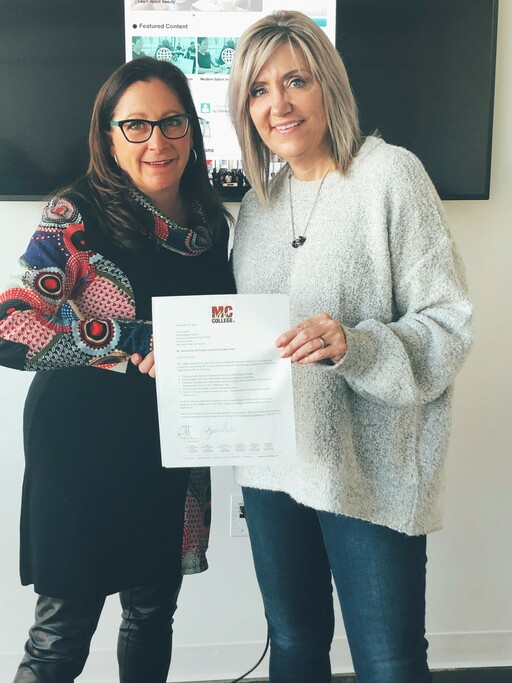 Sherwood Park, AB. — A new partnership between MC College and Salisbury Composite High is helping cosmetology students maximize their education by giving them a leg-up when to applying for post-secondary education.
There's a lot to learn when it comes to hairstyling, and as fashions and trends change, students need to be able to keep up. This new partnership with MC College, a hairstyling, esthetics and fashion design school in Edmonton, will make it easier than ever for cosmetology students to gain an impressive array of industry-level skills and experiences before graduating high school. Students are gaining access to post-secondary level classes throughout the year, the most up-to-date textbooks, product packages to allow them to work with the newest supplies, and two $1000 scholarships for the top performing students to attend MC college after graduation. What's more, this partnership includes professional learning sessions for teachers as well, so they can be on top of their game and ahead of the trends as well.
"I'm really thankful to my instructors and MC for giving me the opportunity to get head start on my post-secondary credentials while I'm still in high school," says Jolene Audet, a Grade 12 cosmetology student from Salisbury Composite High. "It's a huge deal for me. It'll mean more opportunities and a broader resume when I'm ready to begin my career."
Salisbury Composite High's cosmetology teacher, Zena Duguid, says that's the goal of the partnership. "The working world is incredibly competitive, and for those who already have their eye on a rewarding career in hairstyling, partnerships like this give them an invaluable advantage," she says. "We want students to see what opportunities are out there and learn from those who are already active in the industry."
For MC College, providing local students with a chance to learn more about current industry practice is an investment in the success of their organization. "The beauty industry provides many exciting and rewarding career opportunities," says Cheryl Harrison, MC College's VP of Operations. "We are committed to supporting students who display an interest in our field. They are the future of the salon and spa industry."
EIPS is one of Alberta's largest school divisions, serving approximately 17,400 students in 43 schools. We are proud to be an integral part of our communities, including Sherwood Park, Fort Saskatchewan, Vegreville, Strathcona and Lamont counties, and the western portion of the County of Minburn.
–30–
For more information contact:
Laura McNabb, Director, Communication Services, EIPS 780-417-8204 cell 780-405-4902