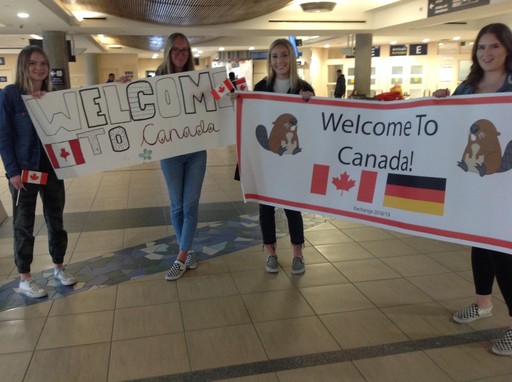 Sherwood Park, AB. —Exchange students from Germany have been getting a crash course on Canadian culture thanks to students at Salisbury Composite High—as part of a two-week cultural exchange program. Since their arrival, German students have been spending time practicing their language skills and learning what day-to-day life looks like for most Canadians. "I really hope they get to learn a lot about Canada while they're here," says Anna Burzynska, a Grade 11 student at Salisbury Composite High. "I want them to experience as much as possible."
Last year, students in the school's German program were offered the opportunity to sign up for the exchange program. Soon after, they were paired with students from Nicolaus-August-Otto School in the Bad Schwalbach region of Germany, roughly 50-kilometres west of Frankfurt. The two groups used social media to start to get to know each other. Last week, the two groups finally met face-to-face, and according to the German teacher at Salisbury Composite High, Cameron Archer, the anticipation was palpable. "They were so excited to finally meet," says Archer. "They've already done a ton of stuff including a trip to West Edmonton Mall and practicing a school fire drill—with a uniquely Canadian perspective."
Salisbury Composite High's German exchange program was launched in 2012, with students travelling between countries every second year. The program is open to anyone enrolled in German classes, but Archer says he notices a common trait among the students who sign up: curiosity and a desire to know about the wider world. While here, the German students will live with their Canadian counterparts, attend classes with them and take trips to variety of places such as Drumheller and the Strathcona Wilderness Centre. They'll even make time for an Oil Kings game, to round out their cultural experience.
As exciting as this visit is, it's only the first half of the program. In March, Salisbury Composite High students are travelling to Germany—with their former guests taking on the role of host. "As a language teacher, I want to open my students to the world around them," says Archer. "An exchange program like this is the ultimate experience. Students get to go where the German language is spoken and experience a different culture first-hand, building relationships with people from the other side of the world. It really is a once-in-a-lifetime opportunity."
Salisbury Composite High serves close to 1,100 students in grades 10 to 12 and is one of 43 schools within Elk Island Public Schools. More information about the school is available at www.salcomp.ca.
–30–
For more information contact:
Cameron Archer, teacher, Salisbury Composite High, 780-467-8816
Laura McNabb, director, Communication Services, EIPS 780-417-8204 cell 780-405-4902