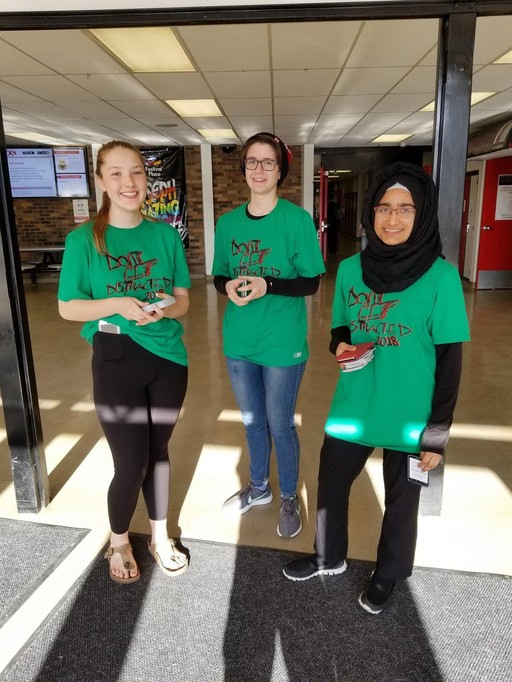 Sherwood Park, AB. — Teens may be known for their love of technology but a group of Salisbury Composite High students want to ensure their peers don't take that habit behind the wheel. From May 14-16, the school is hosting Distracted Driving Week, aimed at making students aware of the potentially devastating impact of not paying attention behind the wheel.
In October, students in the Sabres Active In Leadership (SAIL) program and Sabres Edge Club, two groups that focus on student inclusion, attended the Capital Region Distracted Driving Youth Conference in Leduc to learn about the effects of distracted driving, which is informing their own event.
"Distracted driving doesn't receive as much attention as impaired driving despite having the same impact," says Hannah Dixon, a Grade 12 student at Salisbury Composite High. "Many people use their smartphone while driving to play music or check a text message without thinking about the consequences of not focusing on the road. I hope this event raises more awareness about distracted driving and makes people realize it has major repercussions."
Throughout the week, various activities are planned including an obstacle course, themed swag and a distracted-driving simulator trailer where students can test the effects of distractions while operating a vehicle. There will also be a schoolwide assembly featuring Greg Drew, the founder of the Jammin' 4 Jay Charitable Society, a non-profit organization dedicated to teaching young people about the consequences of dangerous driving. Drew started the charity after losing his son, Jay, in a traffic collision in 2003.
Many Grade 10 students at Salisbury Composite High are just becoming eligible to drive, making the message even more pertinent. "It's an important cause because it effects such a large group of people," says Daniel Verhoeff, the assistant principal at Salisbury Composite High. "We all rely on being able to use the road to go about our daily business. Making sure that young drivers are aware of just how dangerous this activity can be helps create safer roads for everyone."
Representatives of the media, family and community are invited to join students as they take part in the following Distracted Driving Week events:
Distracted Driving Simulator
Date: May 14-15, 2018
Time: 11 a.m. to 1 p.m.
Location: Salisbury Composite High; 20 Festival Way; Sherwood Park; rear entrance
Jammin' 4 Jay Presentation
Date: May 15, 2018
Time: 9 a.m.
Location: Salisbury Composite High; 20 Festival Way; Sherwood Park; rear entrance 
Salisbury Composite High serves close to 1,100 students in grades 10 to 12 and is one of 42 schools within Elk Island Public Schools. More information about Salisbury Composite High is available at www.salcomp.ca.
–30–
For more information contact:
Daniel Verhoeff, assistant principal, Salisbury Composite High 780-467-8816
Laura McNabb, director, Communication Services, EIPS 780-417-8204 cell 780-405-4902