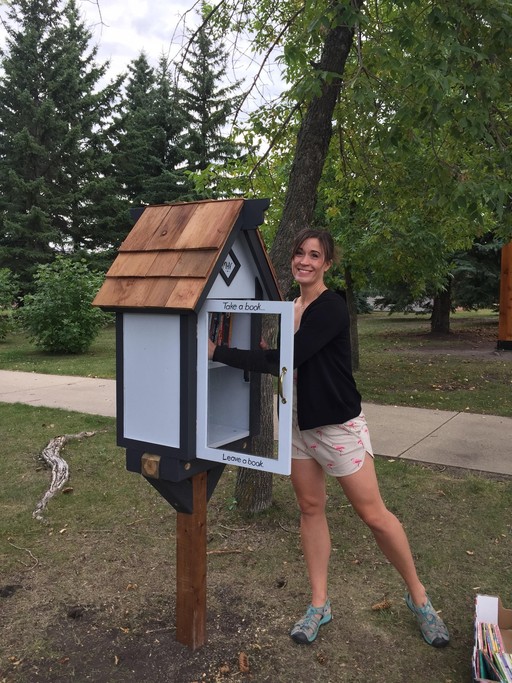 Sherwood Park, AB. — Mills Haven Elementary is taking its commitment to lifelong literacy to a whole new level, with the launch of its tiny library initiative.
Spearheaded by Cherylynne Horbachewsky, a staff member at the school, the tiny library is meant to create a space where the community can come together through their love of books. A weatherproof box is located outside the school and filled with donated books. Community members are invited to take a book they are interested in, and in return, leave a book they no longer need.
"Our schools are dedicated to developing important early literacy skills," says Kaye Schindeler, the principal at Mills Haven Elementary. "As such, we believe a passion for reading should be promoted and nurtured for people regardless of age. Having our own community library allows us to share the joys of reading far beyond the walls of our school."
Already, the tiny library has numerous titles on hand, which are accessible to anyone in the community. All age groups of books are happily accepted.
Funding for the construction of the library was provided by Mills Haven Elementary's school council group. Thanks are extended to school council chair Becky Mitchel and her family, who installed the little library on Sunday, August 27.
Mills Haven Elementary serves approximately 480 students in kindergarten to Grade 6 offering programming in both English and German. Located in Sherwood Park, the school is one of 42 schools within Elk Island Public Schools. For more information about the school visit. www.millshaven.ca.
–30–
For more information contact:
Kaye Schindeler, principal, Mills Haven Elementary, 780-467-5556
Laura McNabb, director, Communication Services, EIPS 780-417-8204 cell 780-405-4902