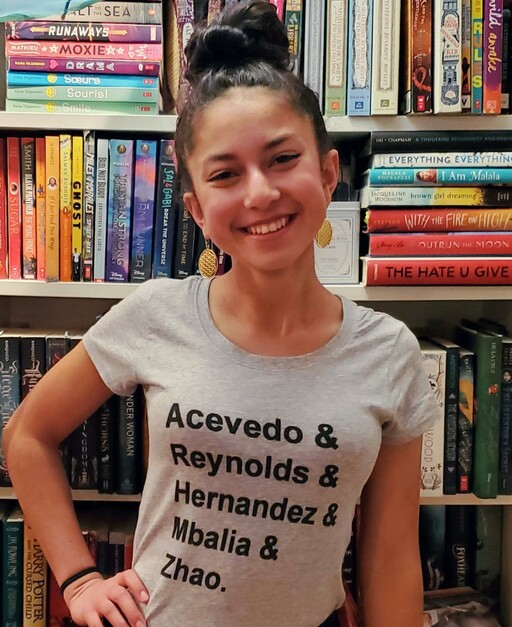 Sherwood Park, AB. — Sherwood Heights Junior High is adding some new books to the school's library, thanks to the efforts of one of its students, Sofia Rathjen. Sofia found the school's library lacking when it came to representation, and applied for a Community Change grant from Strathcona County to match the school's diverse population with an equally representative collection of books. Last week, she was delighted to see her goal realized, as the school was awarded $2,000 to put toward filling the library with books from authors who identify as Black, Indigenous or Persons of Colour.
Sofia has been curating and sharing diverse reading lists for a while now through her Instagram account but wanted to do more to put these books into the hands of her classmates. She wanted to create an opportunity for current and future students of colour to become inspired by reading about characters who share similar backgrounds to them. "Books spark imagination and creativity," she wrote in her grant application. "They are where kids can see themselves as great heroes, scientists and change-makers and see characters they can relate to. For so many students of colour, most of the books they grow up on are very white."
The books are not just for students of colour, though. Sofia hopes the new stories can serve as an educational tool for all students to learn about different cultures and perspectives, not just from history books like they would in class, but from talented storytellers, who can spark conversations about race and promote understanding. "I've learned that books can be used as windows or mirrors, reflecting your experiences or providing a window into the experiences of others," says Sofia. "I want to encourage people to see with technicolour hearts, instead of colourblind eyes."
"Sofia has taken the initiative to celebrate diversity by applying for this grant," says Paul Pallister, Principal of Sherwood Heights Junior High. "I know she is proud for being selected and making her voice heard. Her efforts will enrich our library for years to come, and make it a more welcoming and inclusive space for students who identify as Black, Indigenous and Persons of Colour."
All-in-all, the school is set to receive 131 books featuring authors from dozens of cultural backgrounds, writing in a full suite of genres including science fiction, poetry, history, graphic novels, mythology and more.
Elk Island Public Schools is one of Alberta's largest school divisions, serving approximately 17,000 students in 43 schools. We are proud to be an integral part of our communities, including Sherwood Park, Fort Saskatchewan, Vegreville, Strathcona and Lamont counties and the western portion of the County of Minburn.
–30–
For more information contact:
Laura McNabb, Director, Communication Services, EIPS 780-417-8204 cell 780-405-4902