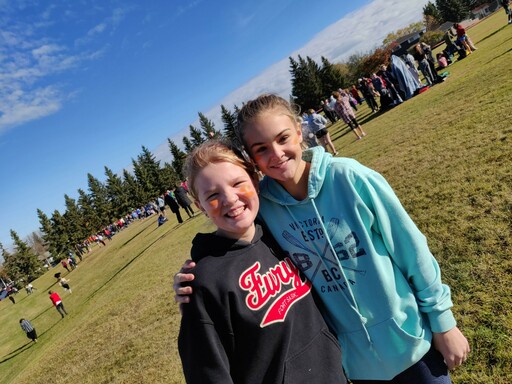 Sherwood Park, AB. — Media, families and community members are invited to join students and staff at Sherwood Heights Junior High to help celebrate the school's 60th anniversary on Sept. 12, 2019.
To commemorate the special occasion, the school is hosting a fun-filled day of activities that include presentations showcasing Sherwood Heights Junior High through the years, a Meet the Teachers event, carnival games and prizes, and a food-truck festival serving up some delicious must-eats. In addition, the school is hosting its annual Cougar Mile race, which is also marking a significant milestone this year—30 years. Annually, the school hosts the one miler to celebrate the benefits of an active and healthy lifestyle. Students in grades 7, 8 and 9; teachers; staff; school administration; and families all come together and take part in the race in hopes of earning the fastest time for the one miler. New this year, the RCMP are also attending. They'll be there cheering runners on and recording the top speeds—using an official RCMP radar gun. It's sure to be fun for everyone who comes.
"We're excited to celebrate and hope to share the day with as many people as possible," says Paul Pallister, the Principal of Sherwood Heights Junior High. "Sixty years is a long time and a big deal. In that time, we've cultivated a family like atmosphere—with students, staff, families and community members. Together we're all rallying behind one common goal: To help students achieve success. And, the activities we have planned for the day are about celebrating and honouring that relationship."
Event Details:
Date: Sept. 12, 2019
Time: 11 a.m. to 5:30 p.m.
Location: Sherwood Heights Junior High; 241 Fir St.; Sherwood Park,
Speakers: Paul Pallister, the Principal; Brad Olsen, a teacher and former Sherwood Heights Junior High student
*Media will also have an opportunity to take photos and to learn more about the school.
NOTE: Principals have the responsibility to limit media coverage only to students approved for interviews. Reporters attending the event are requested to receive permission from a school EIPS representative before interviewing or photographing students. Thank you for your co-operation, and for joining us.
–30–


For more information contact:
Laura McNabb, Director, Communication Services, EIPS 780-417-8204 cell 780-405-4902